The Hardware Things community is a Discord chat and audio server that is home to engineers and technologists from across the African continent. The community is built around monthly chats where members keep the others up to date on their work and seek guidance or input from the community. Often, we have a guest come to share their work in a modified Pecha Kucha format. Guests keep the community chats new and interesting, and we're always looking for new people to join us.
---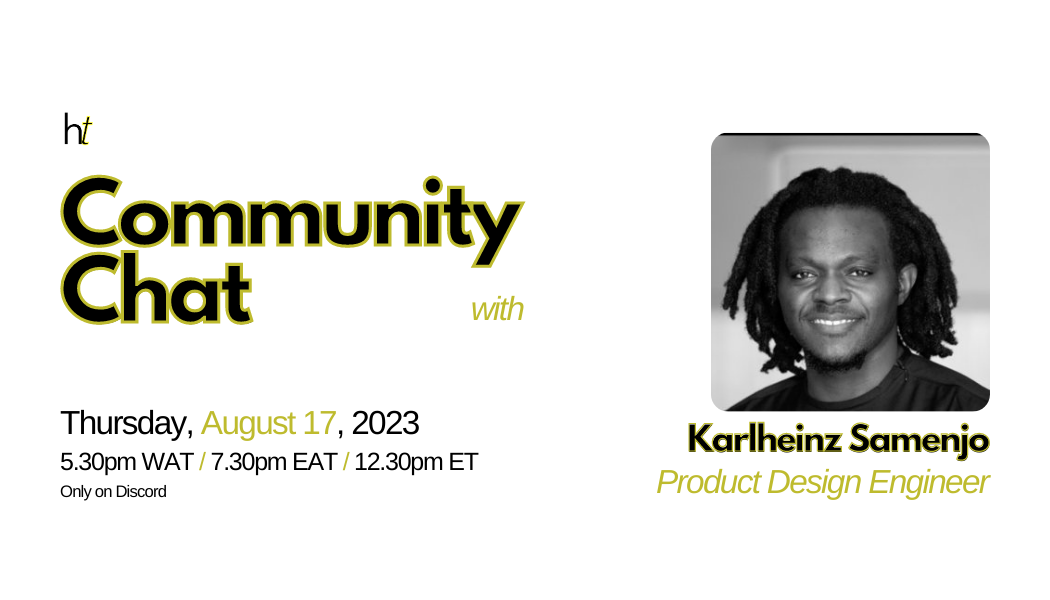 Thursday, August 17, 2023
5.30pm - 6.30pm GMT+1
Karlheinz Samenjo is a Product Design Engineer and was the part of the founding teams of Africa Born 3D Printing and Digital Blacksmiths, two social outfits that spearheaded the development of open source digital fabrication devices built from recycled electronics. Currently, Karlheinz is
a PhD researcher studying circular product design
. He will share his work developing products in Kenya and the Netherlands, as well as best practices for co-design of medical products.
---
Previous Guests
Joel Ssematimba of AirQo
July 20, 2023

Shannon Lee of Powward Ltd
June 15, 2023

Prince Banini of Kumasi Hive and Waziup eV
May 18, 2023

Percy Lemtukei of Savanna Circuit Tech
April 20, 2023

Kayode Alade of Milsat
March 16, 2023
Slides
Frank Bentum of AfricaOSH
February 16,

2023
Geofrey Mutabazi of Karaa Africa
January 19,

2023
Latiff Cherono of Gearbox Europlacer
December 15,

2022
Sydney Okoroafor of Sunvine Africa
November 17,

2022
Kelvin Enumah & Rivents Lab
October 20,

2022
Victor Boit of Veno Autobotics
September 15,

2022
Community Project Showcase
July 21,

2022
Ahmed Alaa of

ITIDA


June 16,

2022
Gbemisola Olaniyan of Alo-Timeys Ltd
May 19,

2022
Clinton Oduor of Rhions Lab
April 21,

2022
Dozie Igweilo of Quadloop
February 17,

2022
Abiye Tadeos of Anabi Smart Beekeeping
January 20,

2022
Eric Okumu of Opibus
December 16,

2021
Warukira Theuri of Sensors Africa
November 18,

2021
Thami Hoza of Hot Nozzle
September 16,

2021