Chuma Asuzu
Every morning, and particularly during this global pandemic, I get out of bed still sleepy and take a walk to the kitchen. I pour some hot water in a cup, throw in a cube of sugar, and dunk a bag of Lipton Yellow Label Tea inside. Sometime after the first ten sips, I finally wake up. A million steps are involved in making this simple delight happen, but it starts with people like Abraham Natukunda and his family.
In the Western Region of Uganda, where he was born, tea crops are grown largely by farmers who also harvest the crops in small plots. After the plants are harvested, the farmers deliver it to production factories close to their home in order to be processed to tea grains. Unfortunately, these farmers do not set the prices on their tea. After processing, tea is sold at a port auction in nearby Mombasa, Kenya where international tea buyers bid on the tea according to their quality grades. These prices fluctuate by season and affect the quality of life of tea farmers.
For Abraham, who spent afternoons after school on his family farm harvesting tea, he saw firsthand how fluctuating prices result in unreliable family income with farmers being unable to provide for their families during periods of bad sales. Improving the incomes of families like his own became his mission, but since farmers don't control sales he had to start from somewhere else.
"I saw no reason why the price should keep fluctuating, depending on how your grains are graded [by someone else], that's why I developed my technology," he said. His technology, simply called eNose, could change the landscape of tea production in Rwanda.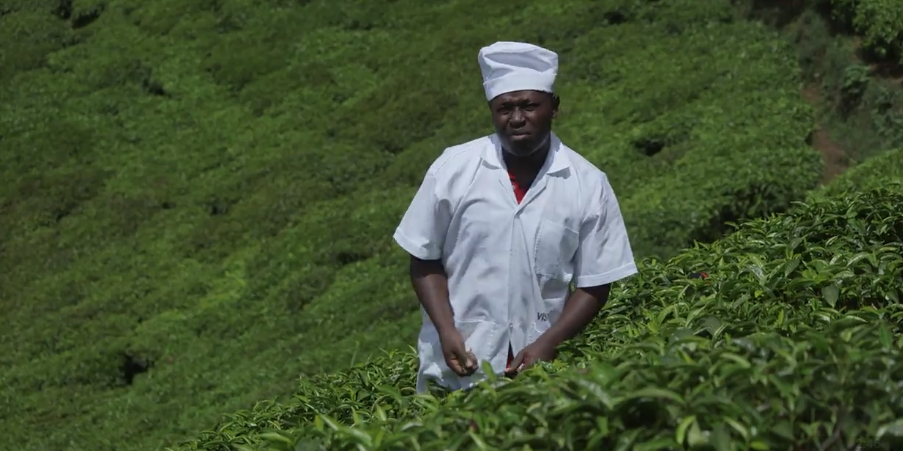 The East African Tea Industry
The East African countries of Kenya, Uganda and Rwanda export about 20% of the world tea, with Kenya in the clear lead; the country alone netted $1.5 billion in 2017 from selling tea. Before the tea grains are ready for export however, there are many stages beginning from harvesting at the farms.
How tea is processed
Harvesting tea depends on the season, and when rains are frequent farmers are able to do so biweekly. Farmers may be smallholders, who own small plots about half the size of a soccer field and deliver to production factories, or commercial tea estates who own land that is managed by hired hands beside factories that they also own.
At the production factories, the leaves are first sorted to determine the useful leaves, then withered — either naturally with air or chemically with steam — to reduce their moisture content.
For black tea, which is the chief tea product in East Africa, the leaves are then cut with machines in a way that ensures the enzymes stay alive. This Crush-Tear-Curl process is where CTC black tea gets its name from. After they are cut, the grains are cured by heating at high temperatures.
Only then is fermentation done. Here the tea leaves change colour from green to the colour that is determined by the type of tea the producer wants. At this final stage, the grains that will produce black tea actually look Copper Brown.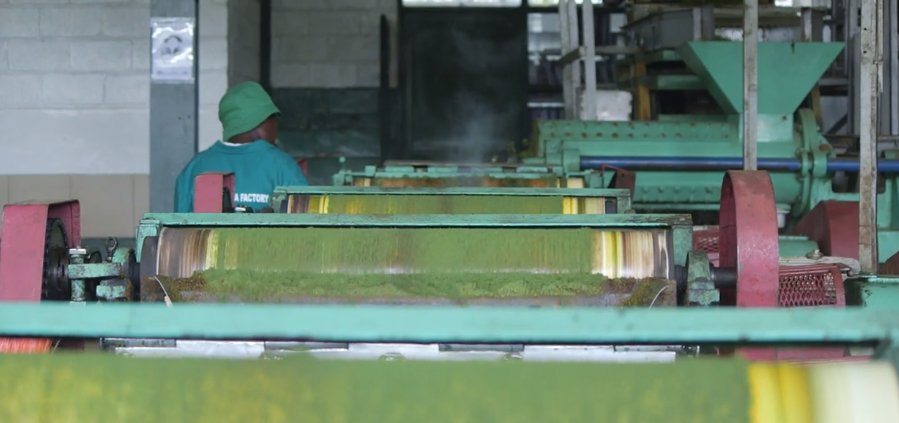 Fermentation is the toughest part of production. As it depends on an enzyme reaction, it defines the resulting aroma, colour and taste of the tea - the very features that influence the price at sale. It requires a lot of experience to get right and is usually controlled by technicians who have worked at the plants for over 30 years. Experienced technicians would taste, smell, and then judge the tea to determine when the tea is ready and the cycles could end.
Abraham saw an opportunity here. If the most important part of production was handled by seasoned hands, what if they could train a system to recognize the optimum characteristics of a tea fermentation recipe and there was enough traceability in the system to monitor how well each batch of tea processed was sold at auction?
And that's eNose. Built as a machine learning platform feeding an analytics system that's hooked up to different sensors, it monitors the humidity and carbon dioxide levels during the fermentation process. In addition, it includes a colour recognition system that is able to identify the hue of the tea grains. Using the enzyme reactions to map the reacting chemical compounds, eNose monitors the level of each element according to the intended tea flavour and can stop the process when the desired levels are achieved.
"As developed, if the level of Caffeine had reached, say 25% [and this was the optimum level], the sensor would keep the humidity and carbon dioxide stable until the end of the fermentation process," says Abraham.
How tea is sold
From the factories, the tea grains are transported to the Mombasa port for sale. These auctions are huge affairs, handled by the East African Tea Traders Association (EATTA), where tea from 16 countries in the region are placed in grades and sold.

On the international tea market, there are three important auctions: Kolkata, in India; Colombo, in Sri Lanka; and Mombasa, in Kenya. Over the last four years, while the prices have varied at each of these auctions it is clear that while Kolkata is relatively stable, prices at Mombasa and Colombo seem to vary similarly.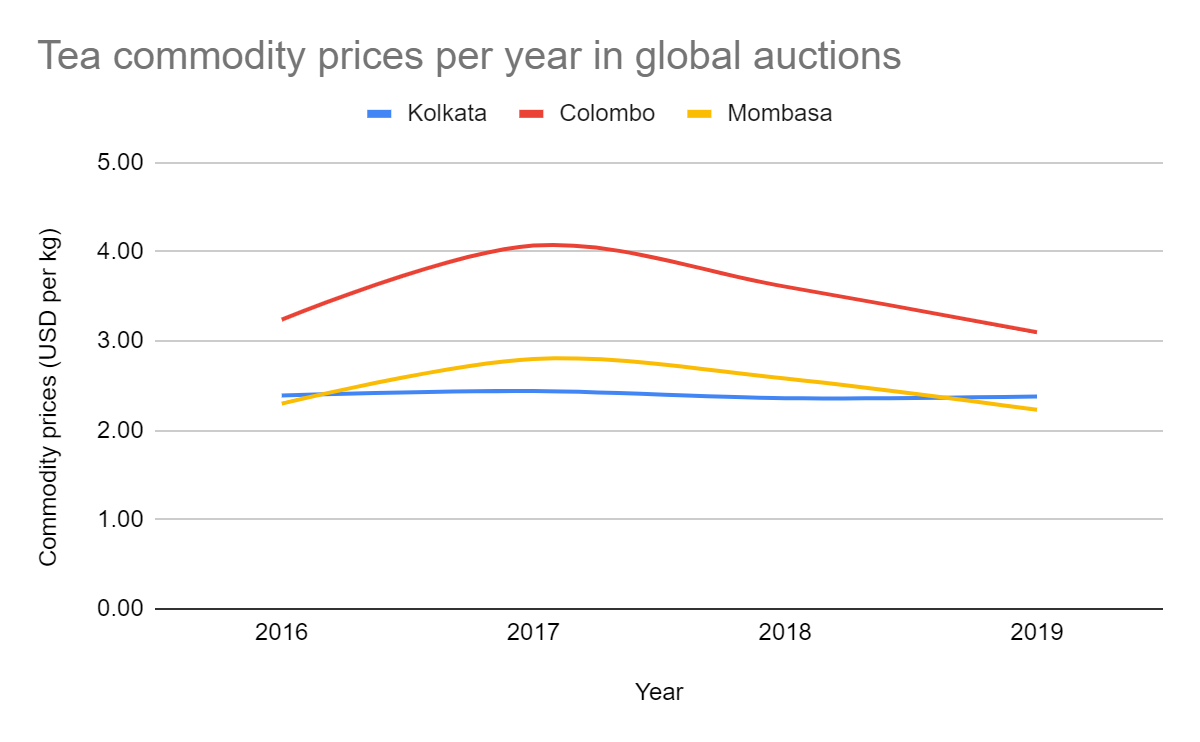 "The East Africa region produces high quality tea and has a well-respected marketing system through the Mombasa Tea Auction, thus rendering the region's tea in high demand" says John Baffes, who is a senior agricultural economist at the World Bank.
The tea auction process itself is interesting. Tea producers do not represent themselves, instead using brokers who establish the minimum price to begin the bid. Brokers help store the tea in Kenya especially for producers from other countries in the region, deal with payments, coordinate tasting for buyers, and relay information from the buyers back to the producers. This brokerage system established since the auction began in 1956 is seen as a remainder of colonialism by some of its ardent critics.The bidding is held by 'open cry', where buyers in a room compete for tea packed in pallets.
The crown jewel of the Mombasa auction is tea from Rwanda. Consistently outselling tea from other parts of the region, it holds the record prices at the auction attracting buyers representing companies like Unilever — who of course produce Yellow Label Tea. For an outsider, it is difficult at first glance to understand its high price.
Christopher Foster, a researcher at the University of Manchester who has studied tea extensively over the last ten years says it's for the flavour. "[When you purchase tea] You do not get single origin tea. Teas from different regions are blended together [by tea retailers] to share qualities: East African tea for its rich flavour, Asian tea for its colour."
Much Ado About Rwandan Tea
Located south of the equator in East-Central Africa, Rwanda is affectionately known as The Land of a Thousand Hills due it's relief. The small country (Kenya is 22 times bigger) fought a civil war from 1990 to 1994 which culminated in a terrible genocide that killed more than a million people of Tutsi origin in three months. Since the war ended and subsequent peace treaties signed, the country has made considerable strides with 7.76% annual GDP growth between 2000 and 2019.
The Rwandan tea market
Compared to its tea-producing neighbours of Kenya and Tanzania, Rwanda is landlocked and densely populated. Tea was introduced in the country in 1952 and is now the third largest export from the country (after coffee and minerals) earning $86.9million in revenue last year. Since 2003, the federal government has successfully privatized it's tea factories in a bid to improve the efficiency and output of the factories.
Supplying the country's factories are more than 30,000 smallholders and 60,000 households across 11 of the 30 districts in the country. These smallholders produce more than 65% of Rwanda's tea while earning only 25% of the final tea price, compared with the 75% earned by farmers in Kenya. This is largely because Kenyan farmers own their own processing factories and have developed greater efficiency and quality on farms and in factories.
The quality of Rwandan tea is thanks to two main things. First, the natural environment. Most of the tea is cultivated on the hilly countryside with rich volcanic soil. "The higher you go, the better quality" says Marie Ange Uwimana, a Tea Specialist at the National Agricultural Export Board — the regulatory agency for tea production.
According to the agency, the 24,000 hectares of land that grow tea in the country is on hillsides and well drained marshes at altitudes between 1550m and 2500m. This elevation helps to moderate the climate in this equatorial region and the mountains help capture much-needed rainfall.
The second attribute is man-made: Rwandan tea is plucked during harvesting by hand. This is a deliberate policy by the regulatory agency to keep the yield of good tea high — there are regular training sessions for farmers on these standards and routine inspections of tea factories. Marie says that her agency's goal is to ensure that 80% of the tea leaving factories should be in the primary grades in order to attract high prices at the Mombasa auction. Their buyers, mainly from Pakistan and the UK sure appreciate this.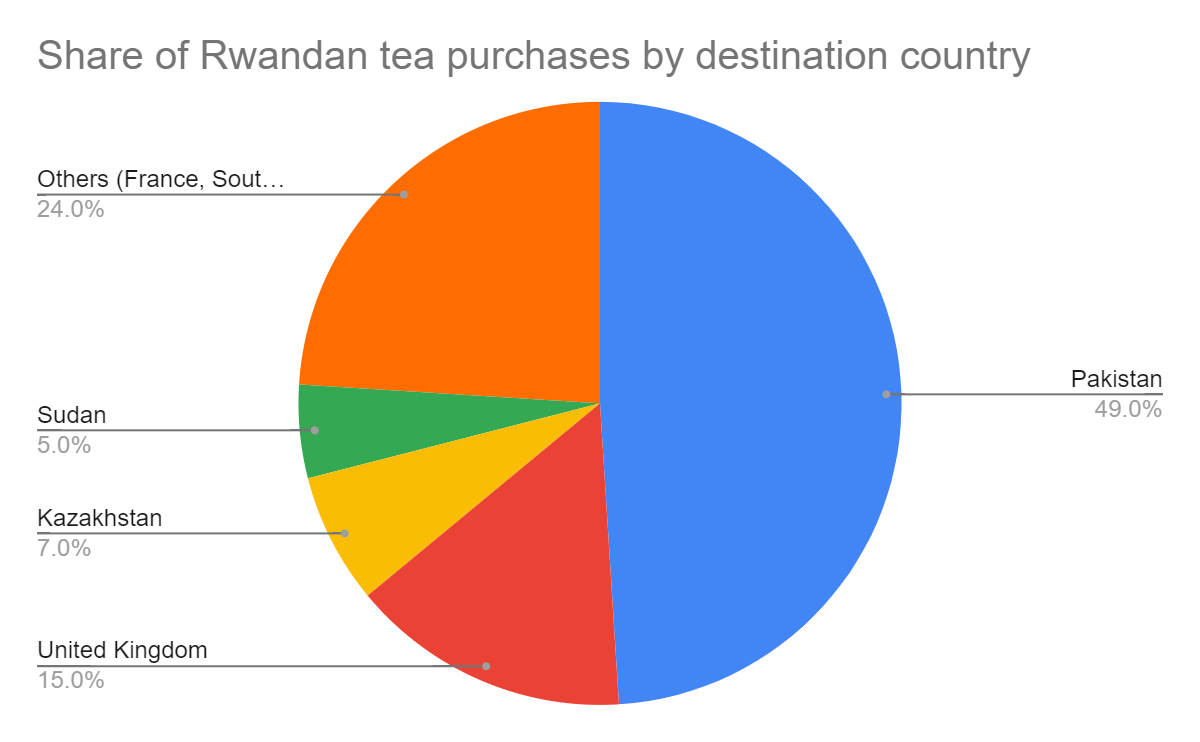 Rwanda Mountain Tea is one of Unilever's suppliers in Rwanda. They own five tea factories and have a stake in another two. Even though they are quite new, they have acquired multiple factories thanks to the privatization of previously government-owned assets and now command leadership in the market. This is also due to a culture of innovation.
Internally, this means modernization of their factories. They invested in new machinery for cutting and boiling tea, built new factories, and strengthened their staff. "Now we make more money per [machine] unit than before" says Bela Nyirahuku, Sales and Marketing Manager at Rwanda Mountain Tea.
When the national grid did not supply enough power for their new machinery in the factories, they built a hydroelectric power station. Now they have three, and even sell power back to the grid.
Externally, it means they recognize innovation when they see it. When Abraham began developing the product that would become eNose in 2017, Rwanda Mountain Tea provided the first tea factory to deploy his technology. At that time, Abraham was a graduate student at Carnegie Mellon's campus in Kigali, Rwanda studying for a Masters in Information Technology.
During an internship with Inmarsat, he planned and installed satellite communications equipment setting up sensor networks using the LoRaWAN (Low Power Wide Area) protocol for clients across Rwanda. As tea factories tend to be rural, they lend themselves to such networks. This experience provided the origin for eNose, where the sensors around the factory feed data to the machine learning platform through a LoRaWAN base station.
When installed in a new factory, the platform learns the different flavours and/or different factory standards and when adequately trained provides live analytics highlighting the entire process. Speaking with CNBC, Abraham explains that the analytics can then be viewed via a dashboard and a factory may set up further systems to control production based on the results.
What's next for the future?
With limited land, growth for Rwandan tea is not simply a numbers game. However, as they produce some of the highest quality tea in world markets, they have a strong base to further develop international competitiveness. Keeping the high quality is important but so is growing the income of farmers who currently earn less than 30% of the final auction fees.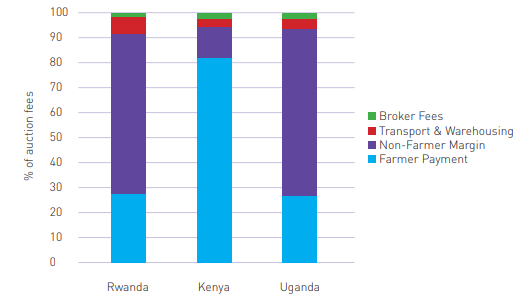 The Rwandan government has a plan for this. They've encouraged tea farmer cooperatives to form partnerships with tea companies where they have a stake in factories they run. This initiative is to see the farmer cooperative societies own the factories after a number of years. One of such tea factories is Gatare Tea Company, which is co-owned by Rwanda Mountain Tea and COTHEGA, the tea farmer cooperative society in the Karungi District.
The regulatory agency is also pushing a national tea brand, where buyers would not blend Rwandan tea in a mixture lower than a certain percentage —the rules are still being worked out. But if your Tetley pack comes with a small brown cup and green leaf logo on the back in the future, you will know you're drinking Rwandan tea.
Another opportunity for growth is value addition and product upgrading: selling blended and packaged tea from Rwanda directly. Tea companies in Kigali are buying into this already. "We want to make morning tea, afternoon tea, sweet tea and more", says Bela. Ginger and lemongrass are also on the menu.
On his part, Abraham has big ambitions for his technology, but the biggest impact he wants to have is on the lives of smallholder tea farmers and producers. By offering a baseline for their production quality, their earnings will be more stable and give them the option of growing their output to increase patronage. He also wants to grow his R&D. "In five years, I want to have a research lab and be working on [new] IOT and data analytics products," he says.
The biggest opportunity for farmers like Abraham's parents is for Rwandan tea to develop niche markets hungry for tea with strong flavour and high quality. They're targeting Morocco, Senegal and other parts of French-speaking West Africa. Maybe their tea is coming to a city near you.
Chuma Asuzu is a researcher and engineer who writes about technology in Africa. He tweets about romcoms and works on an interval timer in his spare time.
Sign up with your email address to receive the monthly newsletter.