Alexandria Sahai Williams
It's a Friday afternoon in Nairobi, and Luthuli Avenue is already alive. Though the avenue only occupies a few square blocks in Nairobi's Central Business District (CBD), it is well known as the place to go to purchase the newest and hottest cell phones on the market. Among the banners that fill each shop's stalls, large blue TECNO banners stand out among the pack.
TECNO is a brand of China-made cell phones manufactured by Transsion Holdings. Though the brand's parent company only entered the African market in 2008, by the first quarter of this year Transsion's assortment of phone brands occupied a 44.3% share of Africa's cell phone market.
But the journey to TECNO's superstar status didn't happen overnight. What's behind the brand's ingenuity is a carefully curated research and development process. On entering Africa's cellphone market in 2008, they brought with them feature phones: simple cell phones with no touchscreen designed to give users all the basics for mobile connectivity.
But as time went on, Transsion started to shift its strategy. The company decided that it was time to design a high quality smartphone at a reasonable cost for the African market and released its first smartphone in 2014. By 2016, Transsion was ready to unveil a new wave of smartphones for its growing user base in Africa.
Their journey to capture the hearts and minds of its target market has come through surveys, price control methods, innovative marketing tactics, and on the ground data gathering. This feat required intimate knowledge of the market that was impossible to gain without boots on the ground. For this key part of the research and development process in Kenya, Transsion looked to skilled university students in Nairobi with an appetite for a little extra cash.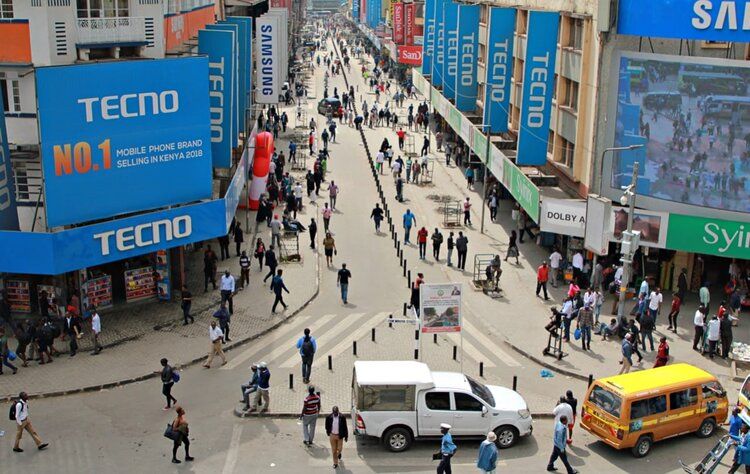 Hands on R&D
Kamau, a Nairobi-based tech worker who asked that his real name not be included in this story, began working at Transsion's headquarters in Nairobi in 2016 while he was a university student. His first task was conducting customer satisfaction surveys. During his four years at the company, a team of fresh faced youths, including Kamau, contributed to the research and development behind Transsion's second generation of phones.
In the beginning, Kamau was unsure as to why they were required to ask certain sets of questions. But as time went on, he came to understand the motivation and value behind the information he was gathering.
Each week, the team would focus on a new model of Transsion smartphones, asking key questions aimed at understanding where improvements could be made for the next edition.
"Generally it was about getting feedback about the model, understanding what [the customer] liked and didn't like," said Kamau.
As Kamau grew with Transsion, so did his role. Upon graduation he became a full-time R&D Specialist focused on gaining the most intimate knowledge of the customer behind each phone.
"It involved contacting a specific owner or a customer with a certain model phone and literally documenting everything about their life and their behavior," said Kamau. "So when you wake up, what do you do first? How many times do you listen to music?"
He claims that the customer satisfaction surveys were so precise that by the end of a two-day period the issues customers had with each model would be clear enough to make changes to the upcoming model of each cellphone.
Transsion's ability to pivot and modify phones quickly is hinged on the company's placement along the cell phone manufacturing and distribution value chain. While Transsion assembles cell phones in Ethiopia, Kamau claims that the company's cellphones are primarily developed at the company's headquarters in Shenzhen. Thanks to Shenzhen's manufacturing prowess, Transsion has been able to develop high quality smartphones with ease.
Key tech real estate aside, Transsion needed their big draw - something that would make people switch over. They decided they were going to develop the perfect camera for Africa. In a world where cameras had not been calibrated for a diverse set of skintones, they had to look to their very own market for data.
The cameras on Transsion's TECNO phones, in particular, are promoted as one designed to accommodate a wider range of skin tones than the traditional smartphone. To achieve this, Transsion had to train the AI behind it's cameras to recognize a new range of colors.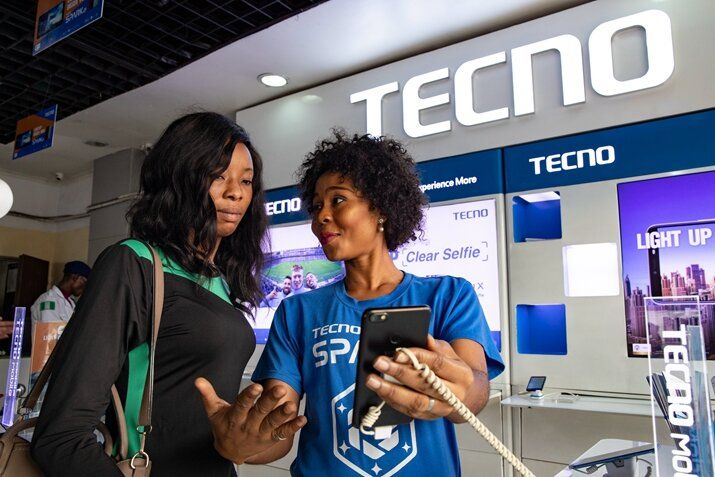 Speaking to Quartz in 2019, Robin Wang, then the general manager of Transsion's hardware centre said: "We discovered ways to optimize photos, such as improving users' eyes, nose, skin color, and quality, which helps our users take a clearer, more natural, and more beautiful photo."
Among the young survey takers hired from Nairobi's universities, Kamau claims that Transsion also hired staff to take more than 10,000 photos a month of people in Nairobi in different settings. Sometimes it would be photos of people eating, other times it would be photos of people in a bus. But, no matter what, the key requirement was that the photos had to be of Kenyan people.
"They [were] original photos," Kamau said. "You'd have to go and take photos without people knowing." Hardware Things reached out to a TECNO representative for confirmation, but the company did not provide comment before publication time. In a story published on September 28, a TECNO staffer said they started collecting data to improve their cameras five years ago, which is around the same time Kamau told this reporter Transsion deployed staff to take photos around Nairobi.
This focus on the consumer has become part of the fabric of TECNO. A current Transsion employee, who spoke on background, confirmed to Hardware Things that photo quality research has become a standard user experience research practice at the company. Local employees across the continent report to their ITD Division in China with notes from customers on a continuous basis.
These efforts have given the company a reputation for manufacturing some of the best quality selfie cameras in Africa. Still, the quality of each cellphone's camera differs according to the amount a customer is willing to pay.
When it comes to TECNO phones, the best quality can be found between a set of three handsets that range from 25,000 to 49,000 Kenyan Shillings (KSH) - about 209 to 418 USD.
For the budget conscious who want a selfie ready phone with an adequate camera the Camon 17p is one's best bet. Equipped with three main cameras, a photo-driven user can get away will pay 24,999 KSH ($227) to purchase it at Dixon's Electronics on Kimathi Street in Nairobi.
According to Alexandria Majalla, a TECNO Camon 17p user in Nairobi, you get what you pay for.
"It takes decent photos," she said over WhatsApp. "The quality is good enough for social media. If you are not some type of super influencer, the camera itself has a few different interesting settings like the Panorama but too much of the quality is lost when you attempt to zoom in."
Customers who are willing to spend a little bit more money can get the Camon 17 Pro for 2900 KSH (about $264).
This phone, which boasts the clearest selfie camera of the Camon 17 line, is the go to for customers who are more serious about their selfie game. The phone comes with three rear facing cameras, with the primary camera promising 64MP. The front facing camera is only at a step below at 48MP and a camera that records at 1080p.
Chris Munene, a manager at Dixon's Electronics, says that the main benefit of the Camon17 Pro is it's memory. With 256GB storage and 8GB RAM, it offers the same amount of memory as the PhantomX, TECNO's new high-end smartphone for half the price. The Camon 17 Pro also carries the same Helio G95 processor as the PhantomX.
But, it's not specs alone that help TECNO sell phones in Kenya. Sales, like many aspects of the Transsion brand, are not up to chance.
From the Factory to the Shop
In the first three quarters of 2020, despite a global pandemic, Transsion reported $3.77 billion in revenue. Of the TECNO phones that contributed to the company's gains, none were actually sold by Transsion in Africa. In reality, Transsion's phones are sold before they leave the factory in China.
According to Kamau, Transsion's TECNO phones are sold by one distributor in Kenya. The distributor is responsible for sales once they reach the country, while TECNO oversees marketing once the phones touch the ground. This process enables the mobile phone giant to standardize prices of its phones on the market.
He also mentioned that Trassion's marketing team offers additional incentive in the form of free marketing for agents and shop owners. In addition, to influence shop owners to put TECNO phones at the forefront of their shops, Transsion also provides trained sales staff to push products and, at times, pays up to six months rent for shop owners who put TECNO phones stalls at the front of their shops.
Dr Andrea Pollio, a Research Fellow at the African Centre for Cities (UCT) who studies the influence of Chinese capital in East Africa, says that from his experience this is true to a degree.
"According to my research, there is a major distributor operating in Kenya, but that does not mean that shop owners cannot find alternative ways of sourcing TECNO phones from elsewhere," said Pollio.
He further stated that, although he was unsure of the monetary benefit that Transsion offers to shop owners for stocking TECNO products, there is a wide range of in-kind support given in the form of display furniture and advertisement signs, to the provision of sales agents.
This explains why, as one strolls down Luthuli Avenue, they are bombarded with TECNO banners, balloons, and shops blasting music complete with staff urging you to make a TECNO purchase. On one visit, an eager salesman ushered customers toward a display of TECNO phones and proceeded to explain the differences in quality between each TECNO model with a precision of one who made the phone themselves.
From Pollio's research, while sales agents are not store employees, they do get a percentage of each unit sold and are professionally trained through the company's local sales team. Kamau stated that a salesman's commission on each unit sold is 10% of the phone's sales price.
He also mentioned that each TECNO shop is required to send their daily sales logs back to Transsion's headquarters in Kenya for review at the end of the day. If it's found that a shop is selling less or more TECNO phones than previously recorded, management moves in to make immediate changes and provides additional support.
A regional sales manager for Transsion explained to Hardware Things that the company does not pay a commission to stores, but offers small electronic shops a cash incentive for meeting sales targets. When Hardware Things reached out to a TECNO representative for comment on these sales practices, the company did not provide comment.
According to a July 2017 report by the GSM Association and Dalberg Advisors, TECNO has established a large franchise retail network in multiple African countries that serve various strategic purposes for the company: they serve as a point of sale, build brand awareness, function as service centres that strengthen TECNO's brand and customer loyalty, and are a collection point for customer feedback. This channel strategy is supported by a network of warehouses and a streamlined supply chain.
These marketing tactics and strategies differ from that of other phone brands that sell in Kenya. It's easy enough to purchase an iPhone in Nairobi, but the recommended acquisition of that phone requires that a customer goes through one of five Apple Premium Resellers. Before a shop sells an iPhone they pay Value Added Tax, import fees and include an additional markup for their own profit. By the time a customer acquires their new gadget they stand to pay around a markup of more than $100 for their device relative to purchasing the same phone in countries like the United Kingdom and the United States.
If the phone breaks or is damaged, a customer can take the phone to an authorized reseller in Nairobi, but the experience pales in comparison to that of going to an official Apple Store; parts may not be readily available, and the item might not be covered under Applecare - Apple's after-sales care programme.
TECNO's phones on the other hand, are covered by Carlcare, Transsion's very own customer service brand that provides repairs and technical support. Carlcare centres can be found on Luthuli Avenue and offer a quick resolution to customer issues with services ranging from part replacement to phone authentication. As part of Transsion's relentless consumer focus, they have also offered phone swaps as well as screen cleaning and replacement services at these centres.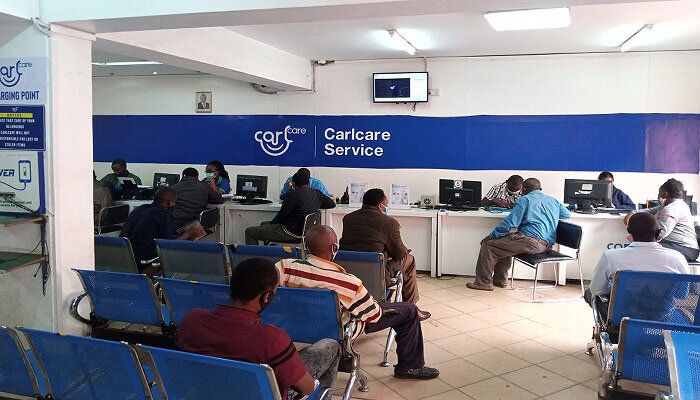 Market Saturation & The PhantomX
It's 2021 and Transsion has largely saturated the low-cost smartphone market in Africa. With more than a 40% market share one might wonder how much farther the brand can go.
In many ways, Transsion's stronghold on the African cellphone market works to its advantage. Each Transsion phone comes with preinstalled apps like Vskit and Boomplay that operate under the companies umbrella corporation Transsion Holdings. But now, Transsion is focused on reaching customers with deeper pockets.
The PhantomX, released in July, represents a new face of the Transsion brand. The PhantomX may have the same processor as the Camon17 Pro, but when it comes to cameras and dynamic photo capabilities the PhantomX has the Camon 17 Pro beat, Munene - manager of Dixon's Electronics - insists.
With three cameras at 50,13, and 8MP respectively, a night vision enabled camera, an ultrawide lens and an additional lens equipped with optical zoom the PhantomX takes photos that are crisp and clear that might make one adopt a better skin care regime.
In a way, the new phone keeps with Transsion's understanding of the Kenyan market. Analysts have long noted that the company's customers in West Africa regard battery life as an important factor in purchasing a phone compared to their East African counterparts who place higher value in better cameras.
Selling at 49,000KSH in September (about $446) the PhantomX is one of the most expensive phones made for the African market to date. But Munene says that people are still buying. When the phone was released, his shop offered a free leather laptop bag to encourage purchases. Now, he says, the phone sells on its own.
Kamau, on the other hand, is unsure of the PhantomX's ability to succeed among luxury phone shoppers in Kenya, and even among Transsion's upper management
"I think the clientele that it is made for would rather prefer other models, but at the same price," said Kamau. "Even our bosses from China used iPhones."
Alexandria Sahai Williams is a technology journalist that focuses on Chinese tech in Africa. She writes as a Senior Reporter for TechCabal & publishes a bi-monthly newsletter, the AfricaDataDigest. Alexandria loves trap music, jacaranda trees, and collecting handmade perfumes.
Sign up with your email address to receive the monthly newsletter.