Chuma Asuzu
In many respects, Madagascar is an isolated country. Located off the East African coast in the Indian Ocean, it is the world's second-largest island country after Indonesia. Scientists explain that as a result of its isolation, the island is a biodiversity hotspot: 90% of the plants and 85% of the animals on the island are endemic to Madagascar. The country also has an interesting geographic profile: mountains stretching to nearly 3000m, mangrove swamps and forests riven by rushing rivers, and a 4828km coastline.
While those features make Madagascar great for movies and travel, it's quite difficult to electrify the population. Only 15% of the country is connected to electricity, and based on 2015 data access is concentrated in the urban areas — only 6.5% of citizens in the rural areas have electricity. Madagascar's power sector faces huge challenges, including the need for improved distribution and transmission capacity to turn around a system that currently takes up to 450 days to get a new connection.
In 2004, Jacques Marie Perrier founded AccesMad as a non-government organization that focuses on improving science education and digital literacy in Madagascar. While they equip schools with computers, their flagship offering, EDUCMAD, is a digital library of science educational materials that is easy to use. Two years ago, in order to equip more rural schools that are unconnected from the grid, they started working with Jirogasy, a startup that develops solar computers completely assembled in Antananarivo.
"Before Jirodesk [Jirogasy's computer], we were installing solar panels and [providing] regular computers in schools. While we could install, monitoring these locations was difficult as sometimes they require 2–3 days of travel," says Anaïs Baronnat, who is Head of Development and Partnerships for AccesMad. Solar computers are not entirely new, Samsung in 2011 launched their NC215S Netbook with a solar panel on the back cover as a secondary power source — Jirogasy's focus on education, however, is an innovation that could mean great things for rural communities in Madagascar.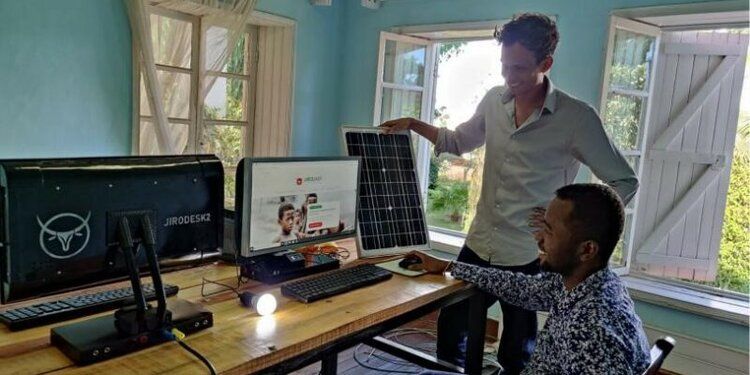 Establishing an R&D base in Madagascar
When Yann Kasay returned to Antananarivo in 2017, he had completed a degree in Business and International Trade from the Paris School of Business four years earlier. But he mentions that he had no strict intention of going into business just yet. "I was a Business Major, but not really interested in business," he laughs.
"My brother is an electronics engineer, and I've always been fascinated with the maker movement — especially Josef Prusa who designed his printer on the RepRap Model and became a reference in the world of 3D printing." For Yann and his brother Lauric, if an engineer from the Czech Republic could take his technology to the next level, they were pretty certain that they could do it too. They developed a 40W solar generator that had an integrated radio, four 12V plugs to plug bulbs into, and a USB to charge mobile phones. Paired with the solar generator was a solar panel, with both sold together as a solar kit. By June 2018, they successfully funded their crowdfunding campaign to raise $7,000. This money would help them manufacture the generators.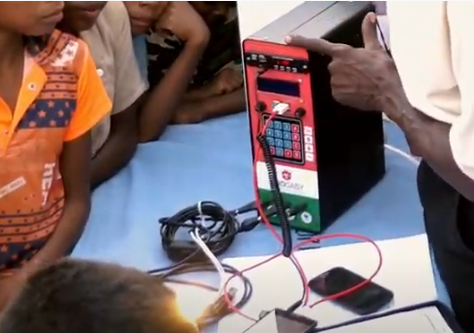 "2018 was the beginning of Jirogasy. We bought our first 3D printer (a Prusa!), bought some other tools [that we needed] on the side, and paid our first rent for our current office [in order] to start building the solar kits." At the time, other 40W solar kits were on the market but they were able to differentiate themselves by selling at a lower price point of about $120. Morale was high as in a sense they had achieved what they set out to do: make electronic products in Madagascar. But they found that they could not continue operating as a maker lab, developing new products, and building a marketing network that would help them sell their products across the country.
So, they started developing partnerships with NGOs. As these non-profit organizations needed solar systems in the field, they could buy the solar kits and have Jirogasy install them. Yann and his team could use this installation experience to keep improving their products, and since NGOs have a huge network across the country they would invariably grow their business. These partnerships helped Jirogasy power medical clinics, schools and other institutions. What they did not expect was that this would lead to a new product line.
Building a solar computer
"We were talking to an NGO who wanted to put a computer room in a school and it crossed my mind that our 40W solar computers would not be able to power six computers, so we had to find a way to do it differently," Yann remembers. That NGO is AccesMad, who currently have their science education library installed in 100 schools across 14 of the country's 22 regions.
Anaïs explains that the organization installs computers in schools as well as provides training to the pupils. The educational content is developed by Ivo Siansa, an organization of science teachers in Madagascar, and accessible via weblink in the computer rooms of the schools. For their model to work, these schools need internet access as well as electricity. AccesMad provides both thanks to their team of about 20 people comprising technicians, trainers and outreach directors.
Yann continues. "[The idea was] to build a product with an integrated single motherboard computer and they (AccesMad) were going to be able to install educational content for the school. That's how Jirodesk started." In March 2019, they had the first MVP. The Jirodesk I was built by hacking a Raspberry Pi 3 to the existing solar generators; the educational library was installed on the Pi which also served as the school's internet server and then a desktop display would be installed so that students could access the content.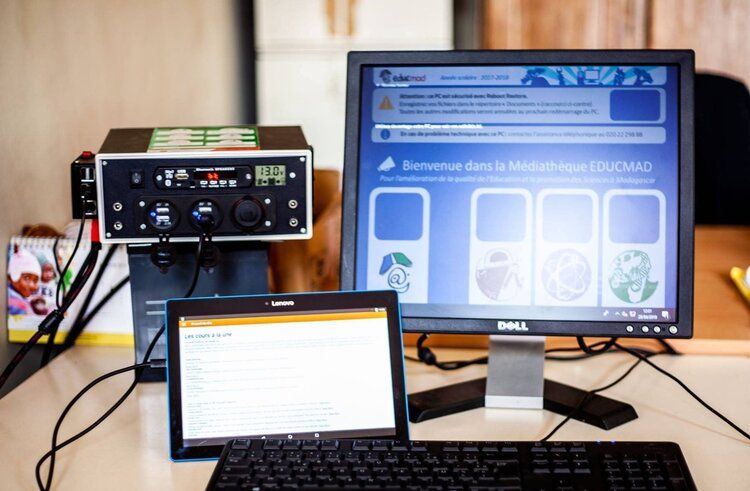 It worked, but the Jirogasy team was not quite satisfied. Having the Raspberry Pi logo show up when the system was turned on did not have a finished look. It also meant that many wires needed to be connected to get the system running. They simply had to build an all-in-one PC. By this time, they had developed a more mature maker lab, with a print farm of 13 3D printers including a Prusa MK2S that they built using off-the-shelf parts sourced locally in Antananarivo. Their production setup also includes four CNCs to support their PCB output, a pick-and-place machine, another milling machine and an English wheel.
Yann remarks that their computer is in a sense paying homage to the iMac. "That's the most beautiful all-in-one desktop computer on the market. Well, let's do one made here in Africa with the solar parts integrated in it. That's how we came up with the Jirodesk II." It took them two years.
The Jirodesk II, launched in February 2021, is a Windows 10 powered PC with a hybrid power supply system, so it can be powered from the grid or charged via a solar panel. The computer also offers remote monitoring, so clients like AccesMad can monitor the battery utilization and location of their computers. And the computer comes in one unit, with a motherboard powered by an Intel chip behind a 21″ touchscreen.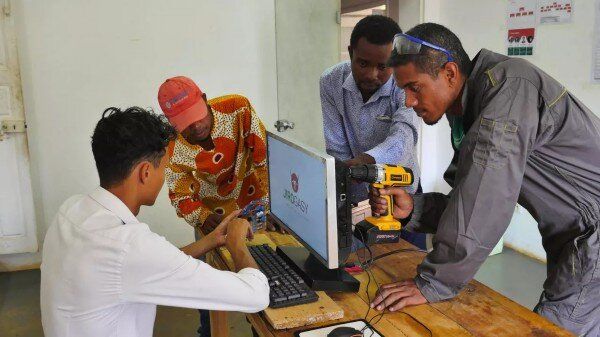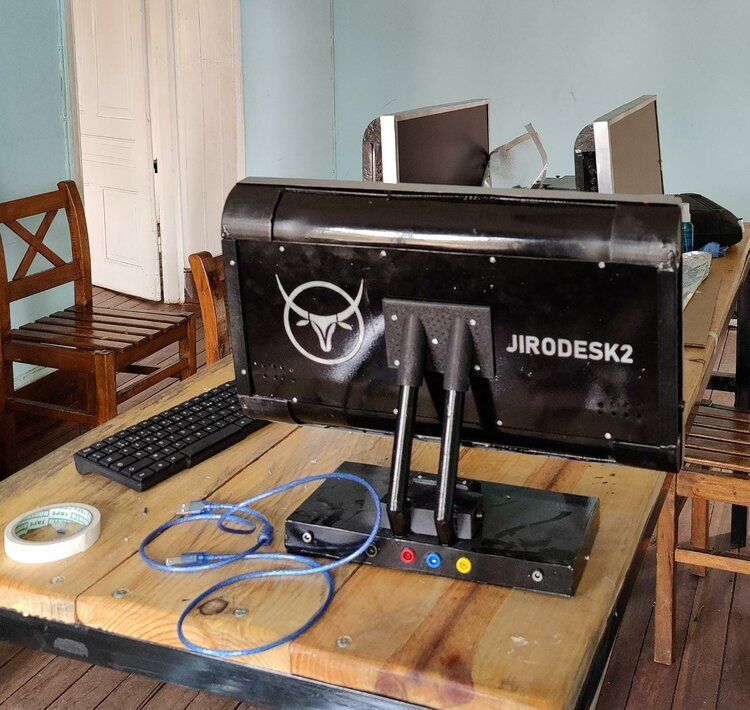 The Jirodesk

II

, front and back views.
RFI

, Jirogasy
"[Jirodesk II] enables us to provide remote maintenance. What we observed from the first version was that people didn't really know how to use the computer. When the computer was in Sleep Mode, for example, we would have people calling us to fix it," Yann recalls. Now they can help their clients with minor issues like that. Which goes a long way when your product is used by students who may not have used a computer before.
However, the new computer is not exactly cheap. "The V1 cost $412 and the V2 costs $792. I think we are still saving money because the first version would be more expensive with [the additional purchases of] the solar panel and computer screen," Anaïs says. In addition, she explains that Jirodesk II is much easier for AccesMad's technicians to install. "We just installed a [Jirodesk II] last week in one school. The first version had limited features but the new one has everything in one computer, there are less buttons for the user and you can easily see how much battery you have left."
Managing the supply chain and the company's future
The battery is not a trivial matter, as a solar energy system is only as good as its battery. The Jirodesk II battery comes from Aceleron, a UK company with operations in Kenya. Aceleron's battery technology is quite unique in that it reimagines the typical battery welding system of Lithium-ion batteries so that the cells in its battery containers can be easily replaced.
Their CTO, Carlton Cummins, spoke to WIRED last year about this. "The way batteries are designed today, everything is welded and glued together, and the assumption is that at the end of usage it is disposed of," says Cummins. "We had to reinvent how you assemble batteries with something that is designed for reuse as well as recycling." Their battery platform, Circa, connects the cells using a removable circuit within a hard shell case; if a cell is damaged or needs to be replaced, the cells can be swapped out by loosening some nuts and bolts.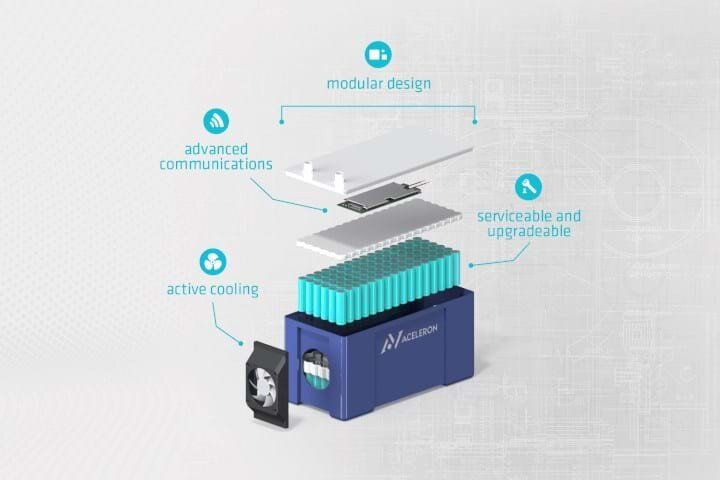 Their Kenyan operations are largely to recycle the batteries from solar lanterns distributed across the continent by TOTAL, the oil and gas conglomerate. In addition, they refurbish batteries imported into Kenya as second-life batteries, extending the useful life of these units. The batteries that go into the Jirodesk II are 12V 24Ah, which on a full charge lasts for 5 hours with the computer at maximum usage. Shipping those batteries into the country, as well as the solar panel is a difficult process for the company.
"When you order big parts into the country, it's a three-month lead time to get what you order. So it's either you have the money to pay a supplier [for those three months] or you have to get creative," says Yann. On his part, he looks for other companies who are sending shipments into the country and tries to place the parts he has ordered to ship with them if they've got a little space in their containers. Smaller parts are no issue, he says, as they only have to produce about 100 computers a month and even the Texas Instruments chips they use to power some of the security features on the computer can be easily gotten from electronics shops in Antananarivo.
When asked about the future, Yann takes a deep breath. So far, their R&D has benefited from a £110,000 grant from the Efficiency for Access Coalition, supported by UK AID and IKEA Foundation. And while NGOs provide a great way to enter the market, it would need a major push to become a staple. Jirodesk II comes with a pay-as-you-go module and with remote monitoring, this could be used to grow the company's revenues.
"We've survived, you know. That's the first thing. We've survived as a company now for three years, [but] if we want to grow we have to address the mass market as well. In our case, it's a pay-per-use-until-you own model." Energy usage is tracked in Watt-hours, and because the Jirodesk II can be monitored remotely, the company knows when the computer is in use. The user pays by usage, and after using the computer for a certain amount of Watt-hours, the machine is paid off and the computer is now theirs. Yann explains that this is different from the conventional pay-as-you-go model because ownership is tied to usage not just when the user takes the machine from them.
"What we want to offer next to consumers is the possibility to own the machine based on their consumption," he says. He likens the model to having credit on a prepaid phone line, where you can top up the minutes you have available to talk except that over time the customer will own the unit. This makes sense, as the customers will pay using mobile money to Jirogasy's account. In rural Madagascar, mobile money via mobile phone providers like Orange and Telmar is more prevalent than banks and is commonly used to send money. In his mind, the future of rural computing will be powered by mobile money.
Chuma Asuzu is a researcher and engineer who writes about technology in Africa. He tweets about romcoms and works on an interval timer in his spare time.
Sign up with your email address to receive the monthly newsletter.