Jessica Pothering
Abiye Tadeos had no experience in beekeeping before launching Anabi, a startup developing smart devices for Ethiopia's honey producers. But the data baited him.
"Ethiopia is the largest honey producer in Africa. But most of the consumption happens locally—the export market is very small," Tadeos tells Hardware Things. The country's beekeepers, he says, are woefully under-producing. "A majority of the producers are very small, making honey from traditional beehives that hang on trees."
Honey is a lucrative, if niche, global commodity. More importantly, honey bee farming, known as apiculture, is essential to healthy environmental conditions and rural agriculture, on which 70% of African livelihoods depend.
Tadeos, a computer engineer specialized in connected devices, is part of a small group of hardware developers looking to help Africa's beekeepers modernize their farming operations and boost honey production and exports.
"The best area that we can apply tech skills in Africa is the agriculture sector," he says.
Honey economics
Ethiopia has an estimated 10 million beehives that produce about 50,000 tons of honey annually and generate income, or supplemental income, for some two million farmers. But their production potential is about ten times the current rate, according to a study published last year in Agriculture and Food Security.
"This huge gap is due to the traditional production system in the country, which results in low productivity," the authors wrote. "The technological improvement is the foremost requirement for increasing agricultural productivity and poverty reduction in the long-term."
It's not difficult to see why. Nearly all of Ethiopia's beekeepers rely on traditional tree-based or clay-jar hives, instead of more sophisticated structures used on bee farms in Europe, North America and Australia. Farmers, for the most part, rely on infrequent observation to monitor bees' honey production, even though regular information on basic conditions, like the internal temperature of the hive, humidity or how much the hive weighs, would easily indicate how hives are performing and if there are issues that need to be addressed.
"If a farmer doesn't know the internal [conditions] of the colony, he has to open every hive" to check, explains Kibebew Wakjira, a biologist and researcher with Holeta Bee Research Centre at Oromia Agricultural Research Institute in Addis Ababa, Ethiopia. This can put farmers at risk of injury, he says, since most do not have the necessary protective clothing.

"Bees are wild animals, and African honeybees like ours become very aggressive when you upset their hives," he says. For this reason, it is nearly impossible for farmers to safely check on the hives during the day. Instead, they must visit the hives at night, when it is more difficult to see what is happening inside.
"Monitoring technologies would support beekeepers by advising them on the condition of the colonies and what they need to do," says Wakjira. Simple monitoring devices, he adds, could easily help farmers double their yields.
For Tadeos, technology is the key to commercializing African honey production. He estimates that there isn't "a single farm or management company that is able to scale rapidly and compete in the global markets by using hundreds or thousands of modern beehives" in Ethiopia. Instead, global producers that are interested in Ethiopian honey contract with small farmers, equip them with the technology and training they need, then buy the honey from them once it's harvested. Low-quality yields and long, inefficient supply chains prevent much of the final product from making it to export markets.
There are several reasons it is so difficult for small producers to scale. For starters, high-quality, modern beehives, like the kind made by National Bee Supplies in the U.K., cost hundreds of dollars each. "Then the management requires skills and manpower," Tadeos adds, "because when you add more hives, you need to adopt regular hive management practices. Without the right technology, you may be able to identify three or five beehives that aren't producing, but you can't keep track of 100 hives."
Ideally, bee farmers should check on their hives once every two to three weeks. It's not uncommon for Ethiopia's small producers to check on their hives only once a year, to harvest honey—even though most hives could yield two harvests per year. Tadeos says he expects that only half of Ethiopia's hives are productive.
What Anabi's hive sensors do, foremost, is take the legwork and guesswork out of hive management. Farmers can attach the networked devices to their hives, and Anabi then aggregates the data and delivers it on a mobile dashboard. Farmers can easily keep track of performing hives and identify ones that require maintenance or intervention.
Specifically, the devices track four key metrics that are crucial to hive health: temperature, humidity, weight and sound. The sensors measure both outside air temperature, to ensure hive locations are appropriate for the species of bees farmers are cultivating, and temperature inside the hive, which correlates to the laying season for the queen bee and worker bees' optimal working conditions.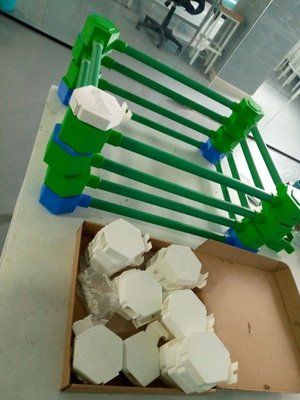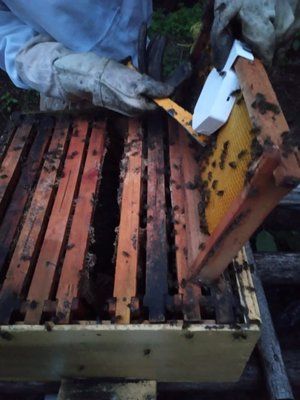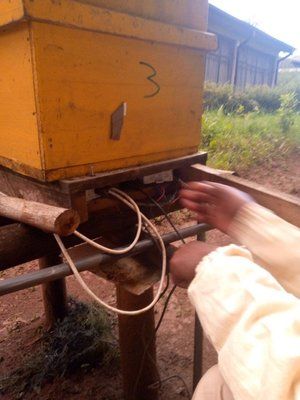 The Anabi sensors measure hive parameters continuously.
Anabi Smart Beekeeping Solutions
"If the hive is within a certain range, then you can conclude that it's an active box and everything is probably fine," says Tadeos. Humidity level is similarly important to hive health.
Weight indicates the level of honey production and when it is time to harvest. Sound indicates the level of worker bee activity within a hive or whether bees are leaving the hive and going elsewhere. Tadeos explains that if farmers don't harvest on time, bees will abandon the hive.
"Also, if they don't like the area, say, because they're lacking flowers to forage, they might leave the hive and go somewhere else," he adds. Sound of the hive can give farmers an early warning that there might be environmental issues that need to be addressed.
Bee-tech design
Anabi isn't the only startup on the continent that wants to give the continent's bee farmers a tech upgrade. Honey Flow Africa in Nigeria is developing its own IoT sensor, encased in a flow hive design, which lets farmers easily harvest honey by switching on a tap built into the hive. (The company is not affiliated with Australia-based Flow, which designed the flow hive.)
Another hive sensor is being developed by Smart Apiculture Management Services, or SAMS, an international collaboration between German development agency GIZ, five universities in Germany, Austria, Latvia, Indonesia and Ethiopia, and several nonprofit organizations. SAMS — which is an open-source initiative — aims to help entrepreneurs like Tadeos build from its technology and develop and test their own applications, explains Wakjira, who is one of the SAMS project leads.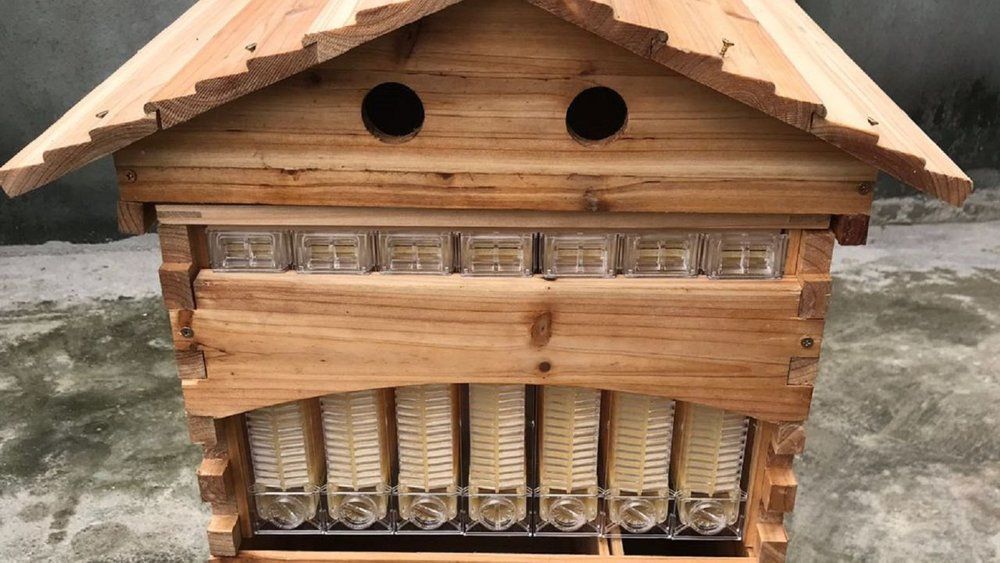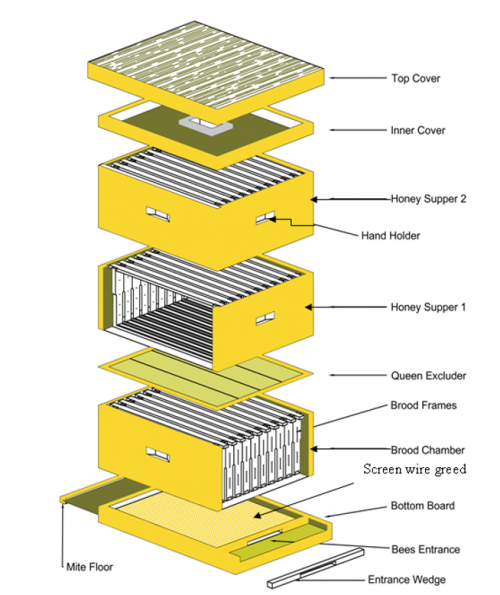 Hive Dessigns: Honey Flow Africa's hive design (top), and

SAMS

modern hive design by Kibebew Wajkira (bottom).
Honey Flow Africa; The

SAMS

Project
"The idea of SAMS is not only to develop the technology but to also develop businesses [to support it]," he explains. "The purpose is to bring in startups and local companies to produce these much needed technologies."
Anabi, for instance, drew inspiration for many of its design features from SAMS and has been testing its device in Holeta's facilities.
The three simultaneous design efforts all stemmed from the same market gap: a lack of suitable devices in the market that could provide the kind of data that Africa's bee farmers need, at an affordable price. Most existing products are designed for hobbyist beekeepers in the U.S. and Europe, and are too expensive and unsuitable for African farming conditions, says Wakjira.
For starters, most hive monitoring devices on the market are designed to measure and track numerous metrics, which makes them too data intensive for African farmers' slow or unreliable mobile Internet connections.
"Often you'll have a temperature and humidity monitor, a sound monitor, GPS tracking—imagine the kind of battery you would need to have to power that device for a year. It all adds up," says Amaete Umanah, Honey Flow Africa's founder — himself a honey bee farmer.
Honey Flow Africa pared the number of metrics it tracks down to the essentials for good hive management: temperature and humidity. Anabi and SAMS's technology track weight and sound as well.
"These can be paired with the floral calendar of each area, and with that, farmers can really learn a lot about what the bees are doing," Wakjira explains.
Also, most existing monitoring devices require a home WiFi network to transmit data, which most farmers in Ethiopia and other countries in Africa don't have. SAMS's technology uses a WiFi router connected to a 3G cellular network via a GCM modem. Each modem and router can support up to 10 devices at a time; they're powered by solar modules.
Anabi's design relies on a localized network to communicate data hive to hive to a master device, which is Internet-connected and pushes data about six times per day to the cloud. Its small, localized networks can support 50 to 100 devices communicating across a radius of about one kilometer. Because the devices aren't constantly transmitting data, Anabi's data intensity is low—it can transmit over a 2G network—and its devices' batteries can last several weeks to several months, in some cases.
"The main challenge in terms of the hardware was all about Internet access," where many farmers still lack access to even 3G mobile networks, explains Simon Ndungi, Anabi's hardware engineer. "We don't rely on having an Internet connection per device—just for each network, which really reduces costs."
He adds: "We knew that's something we had to address if we're going to be working in rural areas."
Lastly, the market's available products aren't compatible with the traditional types of hives most African farmers use. Umanah says that most farmers lack access to financing to upgrade their equipment, which means that entrepreneurs have to think frugally when it comes to their designs.
"We would love to buy off the shelf, but they're way too expensive. You're talking anywhere from $100 to $500 for each IoT device," he explains.
Umanah believes it's possible to produce Honey Flow Africa's device and sell it for $10 to $15. For its smart hive, he says the target sales price is $50.
The path to market
Of the three devices, Anabi's product is furthest along in the development process. The team contracted a manufacturer in China, Moko Technology, to produce a small batch of its early models. It has about 20 of its devices in the field for testing, Tadeos says. Five of them are being tested with bee colonies at Holeta Bee Research Centre.
SAMS is partnering with Anabi and ten other startups around the world to apply its design and technical insights to their own technologies and business development. To be able to commercialize the SAMS technology, however, Wakjira says the project would need to secure additional funding, which has been difficult to find because of the Covid-19 pandemic.
Honey Flow Africa, meanwhile, has lab tested its IoT device, but is fundraising to be able to build a prototype of its smart hive.
Now Anabi is working out its business model to support the production and sales of its devices. The company is first looking to work with international honey procurers that contract with Ethiopian bee keepers.
"We have potential clients, and we would lease out our devices and provide the full beehive management system," explains Tadeos.
But Anabi is also looking into contracting with farmers and becoming a honey producer in its own right. For that strategy, which is still just an idea the company is considering, Anabi would partner with microfinance institutions to help farmers upgrade their hives and cover the cost of Anabi's equipment.
"The biggest problem for most beekeepers is that they don't have access to financing to purchase new beehives," Tadeos explains.
He adds that he recognizes that becoming a honey producer is a very different proposition to being a hardware provider. "We haven't yet tested this model to see how viable it could be," he says, "but we see potential in it."
Jessica Pothering is a journalist covering social enterprise, impact investing and impact tech. She writes for ImpactAlpha and AgFunderNews in addition to Hardware Things and previously edited Demand, an impact hardware publication from the American Society of Mechanical Engineers. She's based in Amsterdam, but will gladly accept any excuse to travel elsewhere. Say hi and connect on LinkedIn.
Sign up with your email address to receive the monthly newsletter.