Chuma Asuzu
---
This piece is part of No Tracking, a zine by Hardware Things. Get a copy.
---
Size is both a feature and a constraint of agriculture; the bigger the acreage of the farm, the more output it can generate. The same maxim applies to agricultural tools: tractors, planters, and ploughs are huge pieces of equipment. Due to their size, they are expensive to transport to farms that need them, farms that are usually in rural parts of the continent. If the equipment needs to be imported from overseas, this cost rises exponentially.
In the face of this, agricultural startups across the continent are developing hardware products in the vicinity of farms that need them. More and more, these startups are attracting significant investment from venture capital firms as well as other institutional investors. Last year, Releaf - who manufacture oil palm extraction machines - raised a $4.2million round, combining equity investments with grant funding.
While these funding opportunities introduce hardware companies to business development expertise as well as technology mentors, they offer little help to solve one of their major issues: the availability of hardware parts. Agritech hardware startups are unique still, as their operations are usually located away from the commercial centres of their respective countries so they deal with logistics issues with moving parts to the country and within it as well.
This piece focuses on two agritech entrepreneurs from different parts of the continent who are managing their R&D and manufacturing processes uniquely to reduce the impact of supply chain challenges on their product development.
Keeping children in school
Four years ago, Jeffrey Appiagyei was completing his national service year in a remote community unconnected from the electricity grid in Ghana. He had elected to become a teacher instead of work as an engineer as most graduating engineers in order to also do missionary work in that community - this was an activity he had been doing in his undergraduate years.
But this time he noticed something new. Students were being called out of class in the afternoons to go to their family farms in order to thresh the harvested crops. Threshing is the process of separating grains or legumes from the harvested plant material, removing chaff from the useful food items."I rode a motorbike into [the nearest] town and called Theodore, who is my co-founder now, and said 'hey, what do you think about building these machines locally?,'" he said. He and Theodore had been designing machines and building parts with local artisans, having won a Feed the Future Soybean Innovation Lab contest to build a thresher in 2014.
That conversation was the beginning of their Sustainable African Youth Enterprise and Technology outfit, or SAYeTECH. Their startup designs affordable thresher systems and builds them with local artisans. "We designed our equipment with farmers and local artisans, local artisans have been building tools [for a long time]. What we really brought into the game are software tools to model, design, test, [simulate], and retest," Jeffrey adds. But that's telling the story too simply.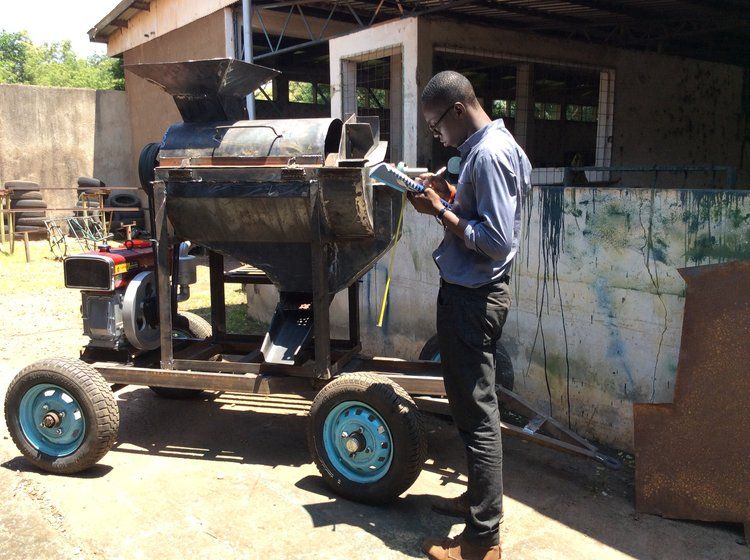 The threshers that are available in Ghana and most of the continent are usually capable of threshing for one crop. SAYeTECH developed a multi-crop thresher that can be used to clean rice, maize, soyabeans, sorghum, and millet. This meant that they could be used by more farmers, and because they produced them locally they were also affordable. For a sense of how well the market has embraced their product, SAYeTECH has made over $350,000 in revenue in three years — very successful numbers for an African hardware company.
Their customers are mostly agricultural service providers, who own large farms but work with a consortium of smallholder farmers who they serve the threshers to. According to Jeffrey, smallholder farmers own about 2.5 acres, with their medium thresher (which can run for 250 acres per season) these providers could service up to 100 farmers each season, taking a fee each time. SAYeTECH also offers threshing services themselves, with a unique form of payment.
"We've also been the service provider for our machines in a couple of farms where we charge in grain. Farmers are always glad to do that because when they trash manually, they have losses as high as 30-35%, even 40% just on threshing, and with our thresher they lose less than 2%. We charge them just 10% of the grain, [so] they're always glad to pay that to access [our] service," Jeffrey explains. SAYeTECH is able to sell the grain easily too, as they are cleaner compared to other manually threshed grain on the market.
Moving from consulting to product
Nouran El-Said always wanted to be a public policy czar. On completing her Bachelors, she worked for a policy consulting firm that helped large scale manufacturing businesses establish their brands and lobby the government to effect better regulations conducive to industry growth.
"A big component of this was actually a business development, [as] we basically guided their strategies in dealing with governments and businesses. At a certain point I actually realised this is the part I really like; also in consulting you work on a project basis, when [the project] is over that's it," she explained. In 2016, Nouran came across a group of co-founders who were working on promising hydroponics applications and she joined them to do business development. That company was Agrimatic.
They built Egypt's first large scale aquaponic facility as a means to validate their technology within the Middle East and North Africa (MENA) region. "The idea was for us to validate this on a commercial scale, because all the applications that were available then were quite small, on a research level or trial level. [We wanted to] build the know-how, learn about the market, understand the dynamics and challenges from the perspective of the growers," said Nouran.
By the end of 2018, the company felt that the market was mature enough. They began receiving requests from growers to replicate the model they had applied with Agrimatic: the farm design, as well as their operational model. It was time for a new vehicle for this, and she became a co-founder in the new venture: Plug 'n' Grow. Today, they offer a relatively affordable (depending on the configuration, an acre goes for $300,000 - $400,000) hydroponic solution for their customers present in countries ranging from Saudi Arabia to India.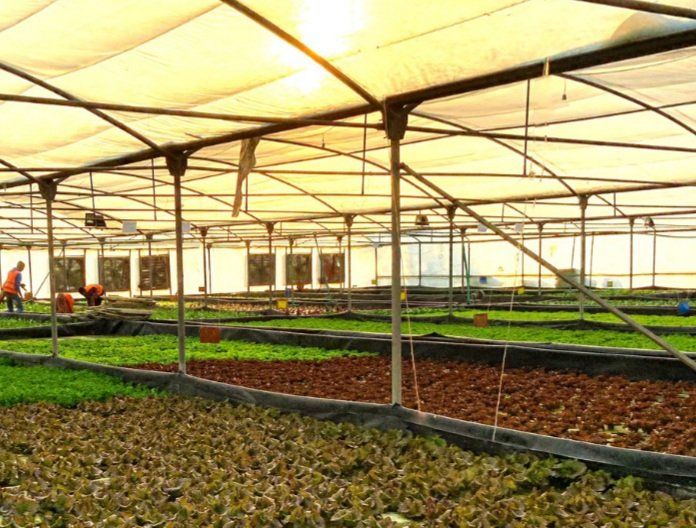 If that sounds expensive to someone new to the agriculture space, that's because it is more expensive than traditional (farming) methods. But Nouran says that's not the full picture. "In terms of return and cost of land, you find [the cost] to be the same because you need a very small plot in contrast to traditional agriculture. The investment you would put in the land now instead we would put in the system and your production cost is very similar. So actually what you have got is a higher productivity and then higher profitability."
Plug 'n' Grow began offering services to growers interested in trying hydroponics and/or aquaculture as part of the farming. They've learnt that in a competitive and informal industry like agriculture, growers like to improvise with new technology mostly to see where they can reduce costs in one part of their whole process. This has made their work get frequently bogged down with requests that take a longer time to complete. At the moment, they're productizing their business — creating modular, prefabricated, small scale units that can be bought and set up by the growers — to make them more nimble and able to offer support services as an add-on.
The opportunity space
Both SAYeTECH and Plug 'n' Grow have witnessed their share of supply chain issues. They have each developed a network of local providers: artisans who fabricate the metal parts of the threshers for SAYeTECH and sensor vendors who supply the metering parts they need for their greenhouses on Plug 'n' Grow's part. But speaking to Jeffrey and Nouran you also hear some of the supply chain-influenced issues they are still solving.
For Jeffrey, it's part quality. "Our main challenge with buying parts is that most 'brand new' materials have less quality and are reducing in quality over time. If somebody says this is a 3mm carbon steel there should be a national structure to check that for you, so that you know it's actually the quality," he stresses. In the presence of low-quality materials, their practice at SAYeTECH is to mostly build out of scrap parts — recycling the metal in the process. He maintains that recycling is a great fit for their work and that most of their new machines have about 60% of it being recycled metal.
That's not all, a lot of the thresher manufacturing (particularly the frame) is not done by them. They have identified laser cutters in their community — who mostly work on balustrades for building construction — to be their partners in delivering the threshers. This keeps their supply chain and production leaner, while they focus on making the specialty parts that do the threshing.
For Nouran, it's process optimization. When they began Plug 'n' Grow, some units to support automation were prohibitively expensive so they developed manual process workarounds. "Let's take the example of the fertigation units, these are machines that have sensors [to]test the different nutrients in the water and alert the system basically to input a certain amount based on the deficiency that's there. What we did was manually test the water with a handheld device and then read the Electrical Conductivity (EC) level of the nutrients and then compensate by calculating how much to put in manually," she explained.
While other local technology companies now produce fertigation units in particular, Plug 'n' Grow still do some manual things like transplanting, for example. Excavating and replanting plants is still quite expensive to automate, but the team hopes to start working on automation solutions relevant to movement within the system in the very near future.
For as long as there are hardware startups in Africa, they will face some supply chain issue or the other. What matters is their resilience to meet each one with a solution that works in their context as well as continue to find better solutions at each opportunity. Agritech hardware startups have an opportunity that others would die to have: their customers grow with them, starting from simple products that increase yield to more complex ones that require automation. And after harvest, they'll always be back the next year to start again.
Chuma Asuzu is a researcher and engineer who writes about technology in Africa. He tweets about romcoms and works on an interval timer in his spare time.
Sign up with your email address to receive the monthly newsletter.