Charles Pensulo
Earlier this year, Bester Kalombo, a clinician at the remote Lisungwi Community Hospital in Neno District, Southern Malawi observed a team of drone operators connect a box of laboratory samples to a drone for examination at Neno District Hospital which is some 18 kilometers away.
Neno is one of the districts with a very rough terrain, with its bumpy earth-gullied roads that are almost impassable during the rainy season due to sludge. The district's dilapidated roads have had a negative effect on businesses in the region, and transportation of medical specimens to the laboratory at the main hospital is always very challenging.
Kalombo, who is in charge of the Lisungwi health facility, believes drone technology is a worthwhile investment in the promotion of health care in hard-to-reach communities. Kalombo says the district mostly uses ambulances and motorcycles to transport medical samples, adding that it takes around two hours for the samples to reach the main hospital at Neno by road. By drone, this journey lasts only 18 minutes.
"The roads to the main hospital are tough to drive through and the situation is usually [worse] in the rainy season, the new drone technology - if it is made a [permanent] mode of transporting medical samples in the country - the time samples take to come from a health facility to a laboratory will be greatly reduced," says Kalombo.
To make drones a staple in the healthcare sector comes with a cost, particularly with purchasing them. But that is changing; some of the drones that took samples away from Kalombo's clinic in Neno are produced by Malawians who are repurposing waste materials to make drone parts. One of those Malawians is Dumisani Kaliati.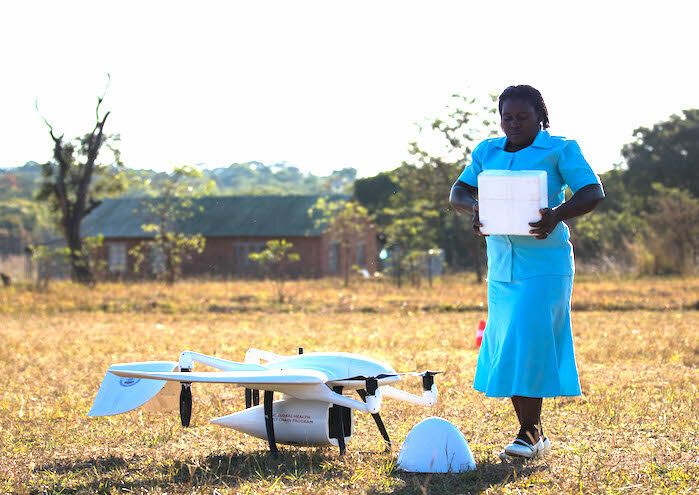 Drones from recycled materials
As an undergraduate student at the Malawi Polytechnic, now called the Malawi University of Business and Applied Sciences, Kaliati got introduced to microcontrollers. In 2015, he started a prototyping lab which he ran out of his college dormitory.
Two years after that, Kaliati was trained in the design, production, and operation of low-cost unmanned aerial vehicles (drones) by Dr. Kevin Kochersberger of Virginia Tech University. Around that time, the Government of Malawi and UNICEF launched an air corridor to test the use of drones for humanitarian purposes — the first in Africa and one of the first globally with a focus on humanitarian and development use.
The corridor is designed to provide a controlled platform for the private sector, universities and other partners to explore how drones, also known as unmanned aerial vehicles (UAVs), can help deliver services that benefit communities and schools.
At the corridor site, the Virginia Tech University team tested a low cost fabrication drone design they had developed in the United States. This design, called EcoSoar, was first used in 2017 to run a drug delivery flight test mission from Gogode Health Clinic to the Kasungu Airport - a distance of about 19km. Kaliati was a part of the team, and at the time the $350 build cost of the drone was revolutionary.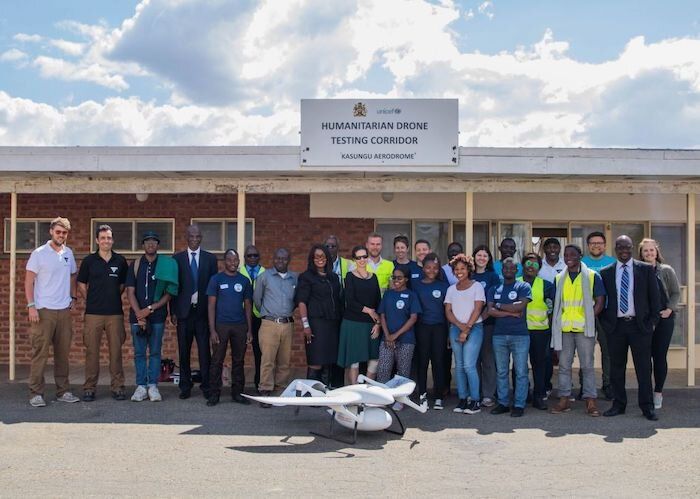 Now, through his company Micromek, he has localized the EcoSoar technology and offers drone services to hospitals and relief organizations to deliver laboratory test samples to disaster areas and the remote rural health centres in Malawi. Having access to the corridor has helped them improve their product.
Micromek is developing the aircrafts locally from 3D printed parts and recycled materials like cardboard, foamcore, and plastic. Their first type has a fixed wing and can carry 0.5 kg of medical load over a 30 km limited distance. The second version can carry 0.5 kg of medical load over a 40 km distance.
"The most recent one that we are developing now is vertical takeoff, which means this [drone] can take off vertically and also land vertically. This one is yet to be tested more for its capabilities but we expect it to reach at least 40 kilometers and to carry 1 kg," he continued.
Currently, the company has about 10 aircrafts. In total, they have built over 15 but some crashed during testing and operations.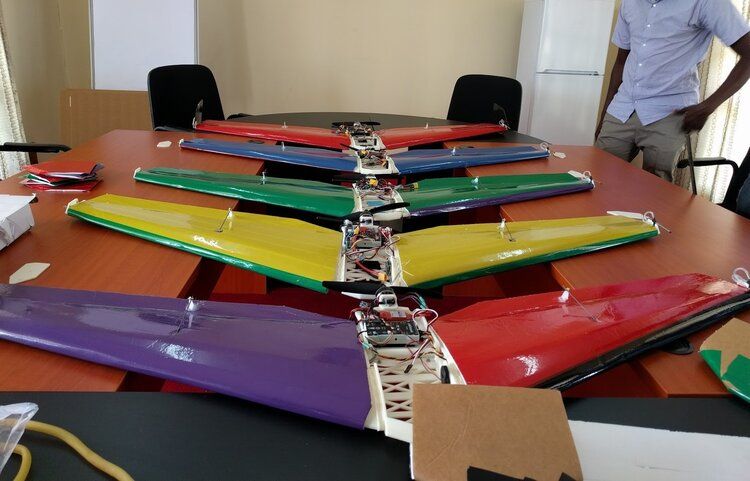 To make the designs, they start with computer aided design software.
"So after we make a drone part, we then print it using a 3D printer. Basically, what we do is we print plastic in the form of the design that we made. This is mainly for the inner parts. And then for the outside, which is the wing and other parts like the fuselage, those are made from recycled foam boards," he said.
"Then we finish it up with other materials which we are not producing on our own. For example, the flight controller, which is like the brain that keeps the software and controls the flight, we have to buy that. But we are getting our own proprietary software for other things like SMS navigation, where we want to be tracking where the drone is using SMS," he added.
Their business model has also given the company some flexibility. Hospitals and their staff like Kalombo do not pay for Micromek's services, at least not directly. Speaking last week at an e-mobility showcase organized by Siemens Stiftung - who recently awarded Micromek some grant funding -, Kaliati mentioned that private pharmacies, as well as health organizations like UNICEF and Village Reach that support the hospitals are their major customers. They also provide aerial photography and data services for private institutions, charging $300 per day for test delivery and data collection missions.
Navigating challenges
Bringing Micromek up to speed has not been so easy. One of the biggest challenges that startups face is to overcome the hurdles that come with government bureaucracies. For them, it has not been easy to make such partnerships.
"We don't necessarily need private support, but rather we need partnerships with government ministries. Since we're delivering medicine in hard to reach areas, we need to know the scenarios which exist within such communities in terms of healthcare. If there is a Health Centre around that community then we need to know how often they run out of medical supplies and how long it takes to have refills when they have supplies. [We need] information such as how far their patients stay from health centre or how long do they have to walk to access health care So if I need [these] records, I need to be able to walk into the [ministry] and get records without having to go through the whole bureaucratic process," Kaliati said.
Some government arms have proven easier to build a relationship with. Kaliati said his company is collaborating with the department of civil aviation who is responsible for providing authorization for drone operations in the country.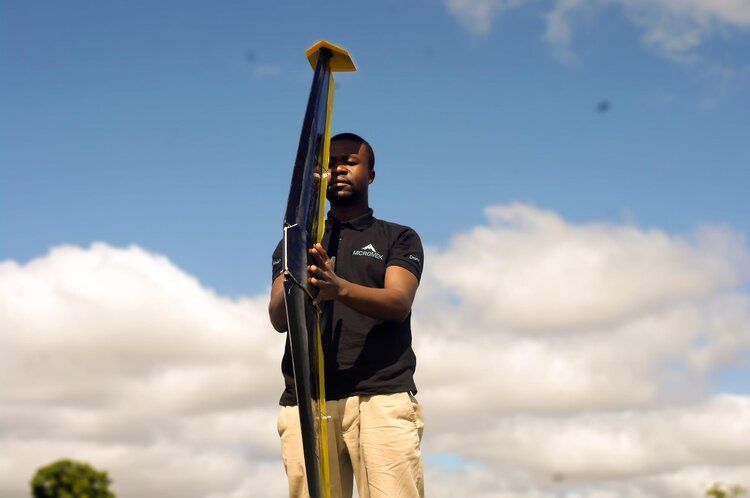 Responding to questions from Hardware Things by email, Zuheb Siddiqui, who is the Program Lead & Portfolio Manager for Autonomous Systems for UNICEF said that enabling and allowing drone technology startups and innovators to test, prove, and refine their technologies in the humanitarian drone corridor has encouraged technology providers and Malawian youth to learn about and participate in this new industry sector.
"Drones have delivered medical commodities in the fight against HIV, prevalent infectious diseases, malaria, cholera, and in recent times against COVID-19. Drones have delivered testing kits for COVID-19 and other diseases, vaccines, medications, essential blood supplies, and transported biological specimens for testing and analysis," Zuheb continued.
And health workers across the districts that drones now serve agree. Having drones during flooding have helped connect health facilities like Trinity, Makhanga, Sankhulani, and Masenjere that are completely cut off from the district during the rainy seasons.
Like any startup founder, growth is on Kaliati's mind. And the new drones being developed are with the intention to improve Micromek's abilities to deliver to their clients. But he has learnt some lessons from his four years in the industry.
When asked about advice for entrepreneurs thinking of pursuing drone startups for medical delivery, Kaliati said: "First, have a use case in mind. Within that use case, think about what kind of drones we need for this. Do we need to purchase off-the-shelf drones or do we need to build our own drones from scratch? And also you have to look at the business model. Are you providing drones as a service or are we just building drones and then selling them? All these will guide your engineering approach. To me I feel like building drones or hardware stuff in Africa and in Malawi is best for sustainability rather than getting to buy drones from outside. If we can build a hardware [startup] ecosystem I think that has lots of sustainability in the long run."
Charles Pensulo is a freelance journalist based in Blantyre, Malawi covering topics such as climate change, food security, human rights, and global development. He has been published in the Guardian, Thomson Reuters Foundation and Al Jazeera. He tweets @charles_pensulo.
Sign up with your email address to receive the monthly newsletter.