Africa's potential to harness solar power is well documented, but with the purchasing power of its citizens significantly lower than the rest of the world, solar entrepreneurs have to be creative with their product offerings — like offering flexible payment products like Pay-As-You-Go and monthly payments without interest.
While still in senior secondary school (Nigeria's equivalent of high school), Abiola Ajala and his classmate Tamilore Adenipekun developed an interest in solar energy as part of the extra-curricular Junior Engineering, Technology, and Science (JETS) Club. In 2013, shortly after entering university, he incorporated Arojintech Limited as a social enterprise with the aim to deliver solar power to rural communities to achieve independence from the grid. Since then, they have installed more than 530 solar systems across the country.
In the same time, the startup has grown to a size of 15 people, who handle the design, production and installation of the solar units. They have also established technical support and supplier relationships with Canadian Solar and Gennex Technologies.
"What we discovered was that — [while] we've had over 500 installations — 1 of every 20 [installation] goes to a rural community. That was a challenge for us.."
The company with a focus on developing rural communities was installing too few units in these communities. They discovered that even though they offered flexible payment plans, many people in rural areas could not afford to pay their daily fee priced at about $1; daily incomes were only about $2.
But these communities still needed power, primarily for lighting, refrigeration, and entertainment.
"We thought we could have a central charging station powered by clean and affordable energy, that members of the community can access basic services"
This idea birthed SUNBOX, a solar kiosk for charging batteries. Each kiosk is franchised to a local operator who doesn't own them, but pays a monthly service fee to Arojintech to operate one.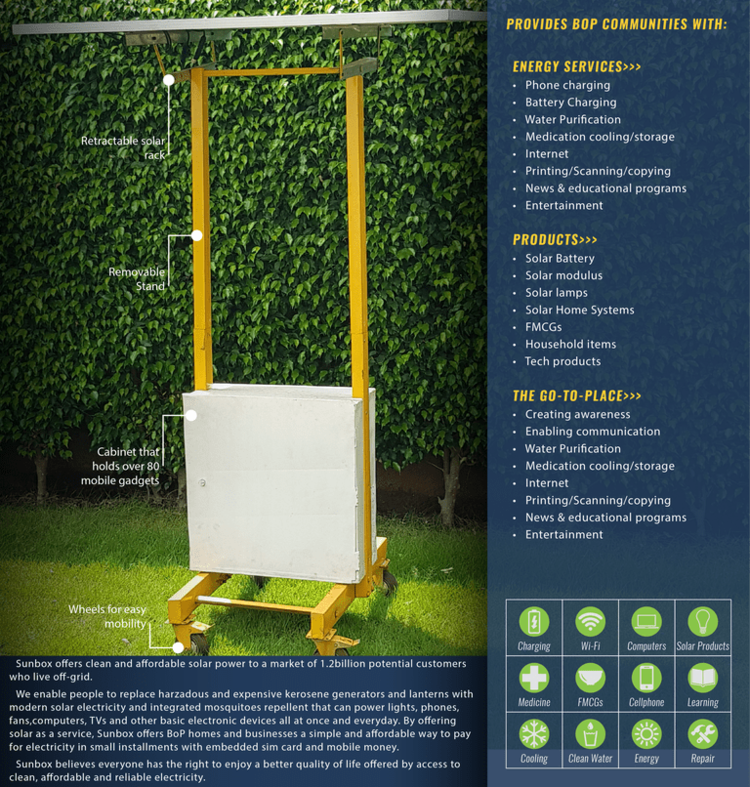 The operators are trained to offer their own support services to members of the community and can maintain the equipment after installation. This franchise relationship gives the operator the opportunity to offer services to the community such as phone charging, refrigeration and advertising promotions.
In each kiosk, are batteries — called SUNKITs — that can be rented from the operator by any member of the community using simple, mobile payments. Without the need to get a solar system setup, customers save on installation and other upfront costs and get a solution that's 40% cheaper than their energy alternatives like kerosene. On a single charge, with full load, the battery can provide 8 hours of power.
These batteries, when empty, can be returned to the operators in exchange for another fully charged one. This way, Abiola says, they are able to 'close the loop' and help to reduce the environment impact of battery disposal.
"Our big goal is to connect about 10.5million people who are off the grid [in rural communities] in the next 10 years, we look forward to launching into other markets outside Nigeria"
By going into communities, SUNBOX is been able to monitor usage, the location of the devices, and their function in a real-time way. This helps them to forecast when a battery is likely to be replaced, a crucial advantage some of their competitors are not able to offer.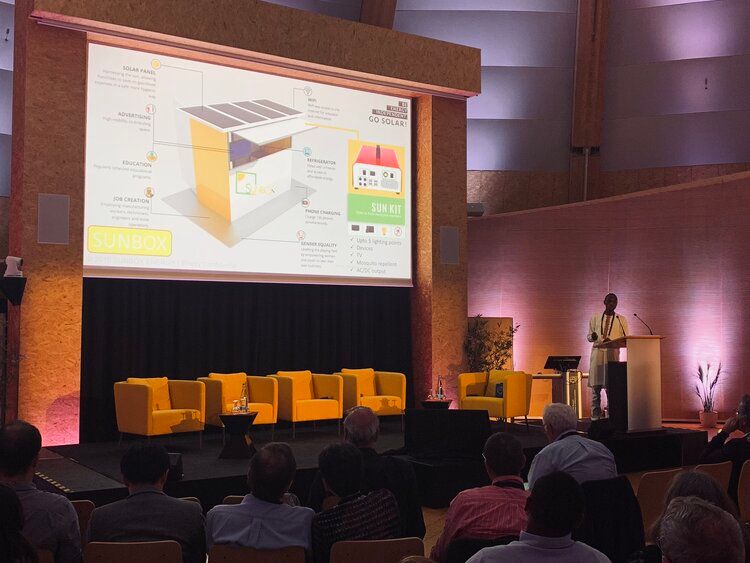 Being able to pair that knowledge with a plan for end-of-life disposal of the batteries is a big win for rural communities, where Abiola believes is the future of solar power in Africa.
Sign up with your email address to receive the monthly newsletter.