Mercy Adhiambo
Inside a small workshop in Nairobi's Industrial Area, Caroline Barongo, 24, is covered in sparks of yellow flames. She holds tightly to her welding machine and peers closely into the metals she wants to merge. She is momentarily lost in her own world. Occasionally, she looks up to adjust her protective eye glasses and goes back to work. A smile spreads through her face when pieces of metals she is working on fuse together. She is building lightweight wheelbarrows for a group of farmers that have made bulk orders ahead of harvest season in June.
Around her, the sounds of clicking metals and an incessant buzz of welding machines from other artisans create a busy environment. A few metres away, three young people are huddled around a computer, examining a prototype of a cooking gas cylinder vending machine they are creating for a petrol station.
They are at the Gearbox Machine-AnI workshop; a space where entrepreneurs and jua kali artisans meet to develop their prototypes for mass production. Tucked away from the busy city centre, the workshop is a flurry of activities, with artisans dressed in overalls walking in and out. They come from different parts of the country, some as far as Tanzania and Uganda, to use facilities at the workshop. The name Machine-Ani is a clever play on the Swahili word "Mashinani" which means grassroot level.
The process of creating new items can be challenging, Caroline says, but quickly adds that there is nothing that could ever replace the feeling of watching an idea that started in the form of a drawing on a computer screen coming to life. "You feel satisfied when something that started as a crazy idea in your mind becomes a real thing that people can use to make work easier," she says.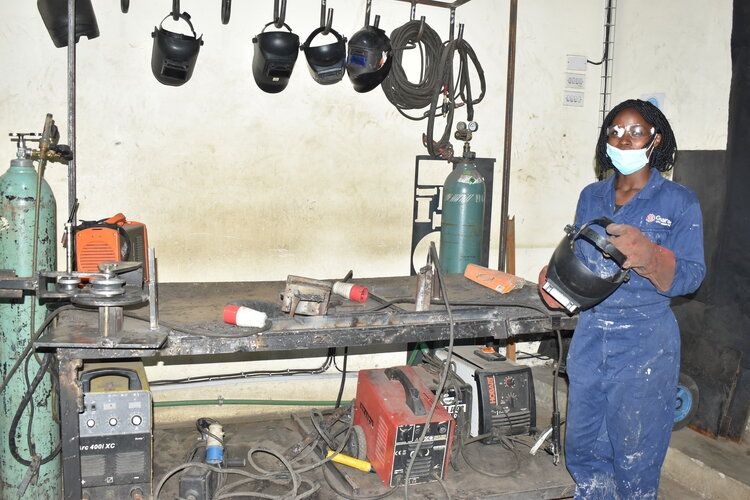 Before the workshop
Jua kali is a direct translation for "under the hot sun", a description used to refer to informal traders and artisans, who traditionally sold their wares by the roadside under the hot sun. Before she joined the workshop, she was a casual laborer who walked door to door washing clothes for clients at a meagre pay of less than 5 US dollars per day. There were days when she would not make any money as the demand for casual workers reduced — and those days were many.
"I lived such a hopeless life, not knowing where my next income would come from. I was empty until I discovered Gearbox Machine-Ani," she says. It was during her interaction with a client as part of her cleaning trade that she first heard of Gearbox.
"My client had interacted with people at Gearbox and asked me if I wanted to learn how to make hardware for sale. It sounded so complex when she tried explaining how I can get involved. I said I do not know anything about engineering and she said it will not be a problem." This was 2019, and the same year she went to the Gearbox offices and was enrolled in the welding course. Today, in a good month, she can make close to 1000 USD but her income varies depending on the demand from her clients.
"The more items I make, the more customers come, and I can now pay rent comfortably," she says.
The Machine-Ani project works by providing an equipped production centre where machines are given on contract to entrepreneurs, especially those with basic engineering knowledge such as jua kali artisans. They use the space to come up with product concepts, improve previous designs, and produce items in bulk for clients who engage their services.
Caroline is making an improved version of the typical wheelbarrow. By using lighter metal sheets, the new wheelbarrows are ideal for small scale farmers who have to transport farm produce over a long distance during harvesting. Access to the machines at the workshop means that she will produce more wheelbarrows in a day, compared to if she was doing it at an artisan workshop where everything is done manually.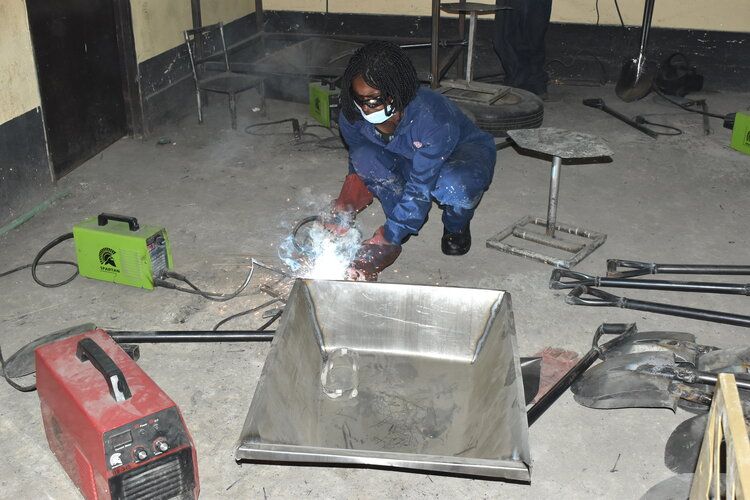 The artisans make money by selling the products that they have produced in the workshop. Since they produce more, many of them say they get higher sales. "If I was at a jua kali workshop, it would have taken me even one week to complete one wheelbarrow. Here, I can do even twenty in a day because the machines here are high tech," she says.
Dr Kamau Gachigi who is the director at Gearbox says having a space where jua kali artisans and entrepreneurs can work on their projects was a long time coming. "This project provides design spaces for people who would otherwise not have it. It develops their capacity to bring their ideas to life by giving them the right technology and motivation," he says.
Since Gearbox opened in 2011 as a makerspace for Kenyan hardware product developers, they have learnt that when given the opportunity innovators can create world class products. Spaces such as Gearbox need a stream of partnerships and collaborations in order to remain vibrant; so far they count MasterCard and Phillips as supporters and retain close relationships with universities in Nairobi.
Competing with products on the market
Emmanuel Okei, another jua kali artisan, refers to the Machine-Ani concept as a dream come true. Having been an artisan for many years, he recalls the struggle it took in the past to create a single hardware item for sale. "We did everything manually. From drawing designs on notebooks and then starting the process of recreating. We made many mistakes and wasted a lot of time and resources," he says. Several times, they lost great ideas when notebooks got misplaced.
With Gearbox, they have access to computers and software where they develop their designs. They also have access to trained engineers who nudge them towards embracing automation and new industrial practices through the use of smart technology. What they appreciate more is that they are given capacity to patent their prototypes and own them.
"I cannot tell how many times I came up with a design or idea and the next day, the person next to me had copied it. We had no idea what patenting was. Even big companies would steal our ideas and we did not know how to confront them. Not anymore," says Emmanuel. They are not only given space to develop their designs, but there is a team at Gearbox that guides them on how to register their patents.
The Machine-Ani spaces are equipped with several machines, including 3D printers, laser cutters and machines for electronic circuitry among others. They also have welding machines and a variety of tools that entrepreneurs need to mass produce their items. Some of the machines such as the laser cutter were made by Gearbox themselves. "It helps cut costs for inventors by providing access to assembly machines through a membership model," explains Gachigi.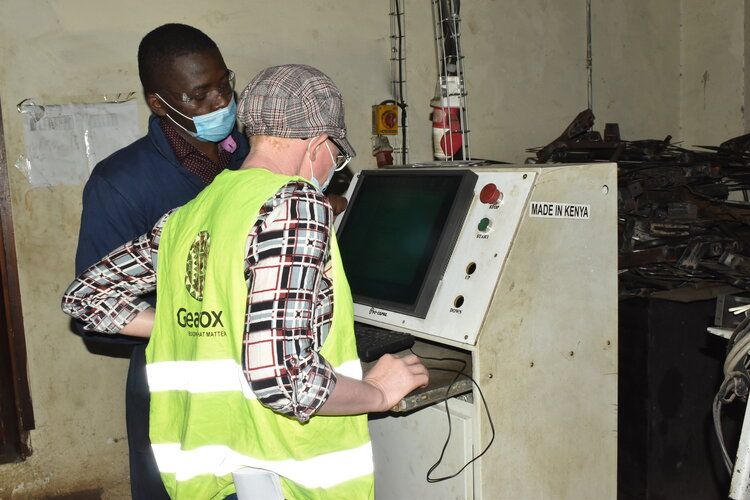 Richard Muteti, chief executive of the Jua Kali Association says the idea of the artisans having a safe space where they can think and produce their work points towards the fourth industrial revolution that African governments have been angling for. "For a long time, even the government has depended on going abroad to countries like China to mass produce their prototypes or to buy finished products. Now, with Machine-Ani, it brings the possibility of creating local items to be used locally and abroad," he says.
He also says it makes hardware easier to access at a cheaper price. In addition, the space provides the opportunity for the artisans to identify potential markets for their finished products. "They are now able to sell to corporates at better rates. They no longer have to stand in the sun with their products, begging passers by to buy. Jua kali is being redefined," says Muteti.
So far, these artisans have produced medical equipment, furniture for schools, and greenhouses for farmers. The workshop provides them with space and technology to create their own items in exchange for a small subscription fee of about $5 - this fee is simply to allow Gearbox keep the space sustainable.
Opportunities for improvement remain
Phyllis Magige, a jua kali artisan who works as liaison between the entrepreneurs and Gearbox says she gets encouraged when she sees young women showing interest in hardware development.
"When Machine-Ani started [in 2019], many people thought it was a [men's] affair. For a long time, people assumed that men were the creators of the products, and women should be on the back seat doing marketing," she says. One of the mandates of the space is to include as many people as possible, especially those who had been ignored in the past when it comes to hardware development.
"I remember the first time I introduced myself as a welder, many people discouraged me. I was breastfeeding and they said the flames from the machines would dry up my ovaries," says Caroline, while narrating the challenges she faced when she started out. She adds that even though the Machine-Ani project promises to bring more women into the world of technology, the focus still seems to be on men, and there are no campaigns by the organization that are tailored specifically for women.
"As a woman, trying to find your space in the workshop can be lonesome. I felt lost the first few days, because I was surrounded by men who constantly made me feel like I did not belong," she says.
She also says the perception is still that Gearbox Machine-Ani was started by bourgeoisie engineers who went to school abroad, so there are customers who imagine that the items produced at the workshop, even by the jua kali artisans, are expensive.
"For some customers, the moment you mention that you made your items at Gearbox, they run away thinking they are expensive," she says, adding that other than focusing only on creating hardware, the workshop should explore possibilities of teaching jua kali artisans how to use tools like social media to market their wares. Currently, the artisans take their finished products from the workshop and market them at jua kali centres around the city. Other times, they depend on others at Gearbox to spread the message to potential customers.
Members of the Jua Kali Association say they are now having conversations with the government on how they can start importing their products. Their focus is on upgrading products from small and medium enterprises to make them competitive in the global market.
"The global trend right now is on developing efficient and practical hardware. Something that serves more than one purpose. For instance, people are no longer just looking to buy a chair. They want a chair that can transform into a bed and also have extra storage," says Phyllis. Part of the training that the jua kali artisans who go through at the workshop get is how they can make their products more competitive.
"It is exciting to see people who have been ignored for long finally getting the validation that the items they create and the jobs they do are important. Their passion is being reborn," says Phyllis.
Gachigi started Gearbox with hopes that it will inspire people who had the desire to build their own hardware. Before the makerspace opened, a lot of focus was put on software development. Hardware development was assumed to be less prestigious and left mostly for jua kali artisans who did the bare minimum when it comes to creating competitive products.
It's been a long time since 2011 and that outlook is slowly receding. They have gotten interest from different parts of the country and are sourcing for funding to open more workshops as well as satellite work spaces in rural areas where artisans such as carpenters, plumbers and others who are interested in hardware development can create their ideas.
"Jua kali was believed to be for people who did not go to school and could not get creative with the items they sold by the roadside. Now things are changing," says Muteti. Their hope is that soon, the pandemic will be a thing of the past and they will get a steady demand for the products they have been creating. Until then, they hang on the hope that comes when they meet at the workshop.
Sign up with your email address to receive the monthly newsletter.