Jessica Pothering
They say you learn more from failure than from success. Sudanese hardware entrepreneur Hatim Hassan is working to ensure that social entrepreneurs in Sudan have the option to succeed.
Hassan knows first-hand the challenges of building a tech startup under severe resource constraints. The computer engineer invested more than a decade building a drone startup in a country where commercial drones were illegal, the import of technical components was banned, and the availability of startup capital and resources all but nonexistent.
But Hassan believes that Sudan needs innovators and entrepreneurs if the country is ever to overcome decades of war and economic hardship, as well as the increasingly dire problem of climate change.
"Because we have big gaps between us and the international community, we have to use technology to fill the gaps," Hassan tells Hardware Things.
That's why Hassan is leveraging the aftermath of his drone startup to help build Sudan's social enterprise ecosystem. By helping to launch incubation programs, student competitions and corporate social engagement initiatives, Hassan hopes to unlock opportunities for the next generation of startup founders, including Sudan's current and future hardware entrepreneurs.
Bird of Hope
Tackling Sudan's social and environmental challenges is precisely what Hassan hoped to do with his drone startup, Massive Dynamics, which he launched with robotics specialist Mohammed Ibrahim. The mission of the company was to leverage a then-emerging technology to combat desertification in Sudan's rural areas and restore economic opportunities to farmers and villagers. Its medium: a commercial drone that could survey degraded land and plant seeds of native tree species, like acacia trees, that would help restore the land and produce goods that could be sold locally and for export.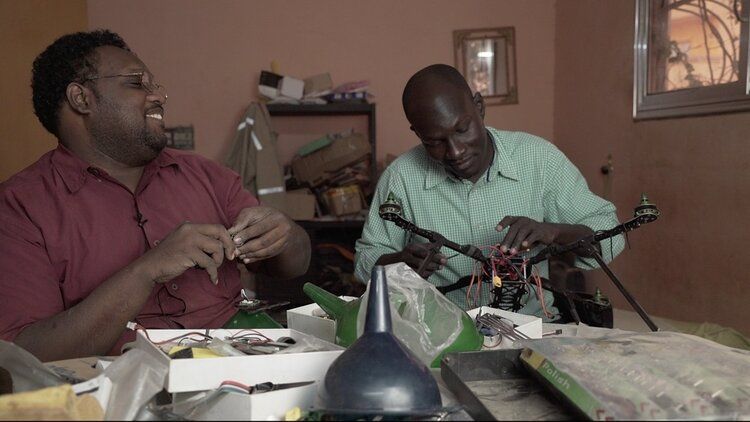 The idea for Massive Dynamics was born out of the engineers' own economic hardship. The duo was among Sudan's many skilled workers who lost their jobs during the Sudanese civil war, which culminated in the independence of South Sudan in 2011. They joined thousands of others who migrated north from the capital Khartoum searching for gold.
Hassan and Ibrahim found mineral riches. But during their months-long stay in the northern region of Shamaliya, they also found dire poverty, wrought by desertification that was burying entire villages and much of Sudan's arable land.
"Desertification has destroyed everything. Because of desertification and the economic disaster, there are no jobs or any way to make an income there," Hassan recalled in an unpublished 2018 interview* with the American Society of Mechanical Engineers (ASME).
Hassan and Ibrahim returned to Khartoum and began building a prototype for a tree-planting drone. They called it the Bird of Hope, and they funded the endeavour with proceeds from their gold excursion.
The product they developed had two key features: first, it could collect and analyze land images, which would aid in tracking environmental changes, plant and soil health, and locations suitable for planting "green walls" of protective and restorative tree varieties. The drone contained a multispectral image sensor that could capture red, green and blue light wavelengths, as well as infrared and ultraviolet light. Such sensors are commonly used in agriculture to assess plant health, drought conditions, pests and other issues that affect growing conditions. Hassan and Ibrahim saw the opportunity to use such imagery to map desertification and land degradation over time as well.
Second, the drone could physically aid in tree planting via a "smart cultivator" device that could carry and disburse up to four kilograms of seeds over a two-hectare plot of land.
Drone pioneers
Developing such a nascent and intricate technology in Sudan proved to be an exercise in extraordinary patience. Drone startups were cropping up all over the world by the time Hassan and Ibrahim had their idea; but importing an existing model that could be modified to suit their needs was impossible because of decades-long international sanctions imposed on Sudan. Hassan and Ibrahim had no choice but to design and build a model from scratch.
For guidance, the engineers turned to an online community focused on environmental technologies known as Public Lab. The forum's global community offered Hassan and Ibrahim virtually everything they needed for the Bird of Hope's design and development: building guides, advice, and a place to troubleshoot issues on the drone's applications and hardware components. It also provided two open-source software tools—Spectral Workbench and Infragram—for the Bird of Hope's imaging analysis.
Getting the physical components needed to build the Bird of Hope wasn't something Hassan and Ibrahim could so easily solve online, however. The sanctions severely restricted their access to most of the hardware components they needed for the device, which included a motor, camera and onboard computer for communicating with the ground and the cloud. Missing parts could take months to track down. Replacing broken components often meant waiting on friends, family, and colleagues travelling internationally to return home with the supplies they needed. Parts would often get confiscated by Sudan's border patrol, or they would make it through but not work.
It took Hassan and Ibrahim years to get a working prototype, and close to a decade to build a version of the drone ready for pilot-phase testing. Both men worked full-time jobs to support themselves and their families.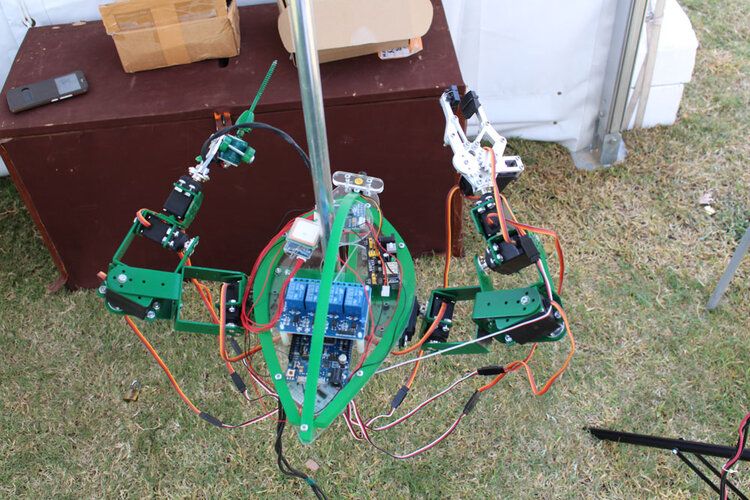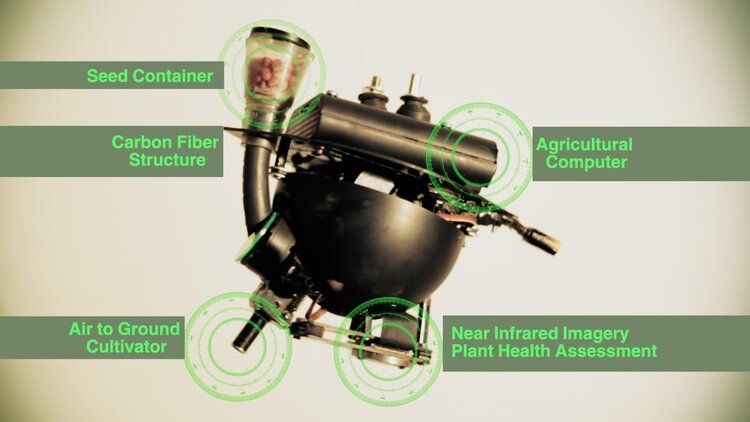 An early prototype of a Massive Dynamics drone (top), and The agricultural components for the Bird of Hope drone.
Massive Dynamics/Public Lab; Hatim Hassan
Then there was the challenge of getting approval to test the device, since commercial drone use was illegal in the country at the time. Hassan and Ibrahim worked to raise awareness around drones' potential commercial and environmental uses by appearing on a popular business pitch television show called Mashrouy and a documentary for Aljazeera's English network called Seeds of Inspiration. Because the Bird of Hope had agricultural applications, which is a priority economic sector for the Sudanese government, Hassan and Ibrahim eventually secured a partnership with Sudan's Forests National Corporation, a government agency, and the European Union to test the drone in the desert, as well as with a domestic sugar producer interested in the drone's crop imaging and moisture sampling capabilities.
"We need to push more, as entrepreneurs, to raise awareness about how drones can be used for [helpful] services," Hassan said in the ASME interview. "They aren't always used to harm things or in security issues."
Advancing social enterprise
The situation in Sudan has changed dramatically since that first interview. In late 2017, the United States began lifting its decades-old sanctions against the country, and in mid 2019, the Sudanese former President Omar al-Bashir was overthrown in a military coup, putting Sudan on a path for its first democratically elected government in 30 years.
For tech entrepreneurs like Hassan and Ibrahim, there were significant practical implications of these events. Importing technology, including drones, into Sudan became a lot easier, for one. More generally, the global social enterprise movement opened up in Sudan, connecting entrepreneurs like Hassan and Ibrahim to an international community and making resources more widely available.
Hassan and Ibrahim paused work on the Bird of Hope at the height of the political revolution in 2019. The global pandemic and ensuing lockdowns further stalled the project. The engineers realized that they disagreed on the Bird of Hope's future direction and ultimately decided to shelve the technology and part ways.
"I took the project [with the European Union] from that point—the social impact part—and [we] left the commercial part," which focused on the drone's agricultural applications, Hassan explains. The project is using a new drone design, since Hassan and Ibrahim jointly own the intellectual property for the Bird of Hope.
Hassan has since joined a new startup offering remote sensing services for the agriculture sector and has continued working to advance commercial drone use in Sudan. With the easing of international sanctions, it is no longer necessary for engineers to build their own models, he explains.
He has also gotten deeply involved in helping to build Sudan's social enterprise ecosystem. Hassan is a co-founder of the Sudan Social Enterprise Association, which is supported by the British Council, a cultural and education-focused organization in the United Kingdom whose other initiatives in Sudan include the Mashrouy business pitch show that Hassan and Ibrahim appeared on.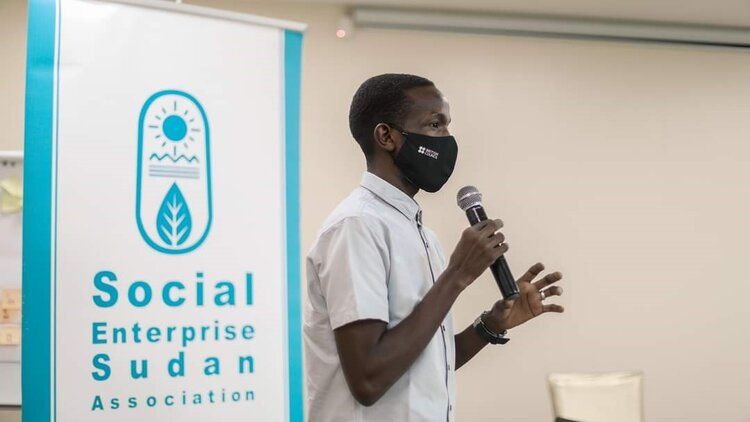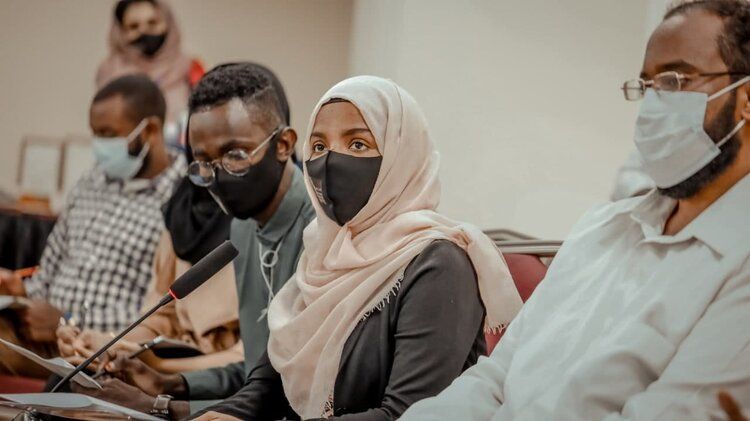 Hassan now works to improve social enterprise in the country.
SESA/Hatim Hassan
There are an estimated 55,000 social enterprises in Sudan addressing everything from healthcare to manufacturing, agriculture to the creative economy, according to research by the British Council. The majority are less than eight-years-old and are focused on their local communities. More than 40% are led by women.
Sudan's social entrepreneurs have difficulty securing financial and other resources in the country's fledgling entrepreneurial ecosystem, however. "Poor economic performance, inflation and other political factors have all negatively affected the development of business in Sudan and hence the nourishing of the practice of social entrepreneurship," finds the report.
The Sudan Social Enterprise Association, as well as Impact Hub, Infotech, the Entrepreneurship Centre at the University of Khartoum and other organizations are working to strengthen Sudan's social enterprise ecosystem and corral resources to fledgling entrepreneurs.
Hassan's work with the Sudan Social Enterprise Association aims to bridge ecosystem gaps with a number of programs, including a business incubator for social enterprise startups, as well as a program for university students interested in learning about social entrepreneurship. It is partnering with UNICEF on a basic skills project for 12 to 18 year-olds to address Sudan's high rates of youth unemployment.
The association is also working with local companies to educate and engage them on business's role in social engagement and help them build five-year social responsibility plans.
Hassan says he is most excited about the work the association is doing to cultivate social enterprise among youth and university students, including engineers like himself. Hassan cites the example of one engineer who was building military equipment but is now helping the medical community design low-cost prosthetic devices for amputees. Another is building a sustainable energy startup. And yet another is helping manage waste and advance recycling in the country.
"Three years ago, no one here knew about social enterprise and how you can use technology to help others," Hassan says. "Now we have more than 50 projects that use engineering and advanced technology for social impact."
"I know of more than five projects using drones," he adds. "Everything has changed. Technology is everywhere."
Indeed. Fares Suliman, a computer science graduate and Aamer Mahmad, an electronic engineer were spotlighted in a recent article by the Pioneers Post for their eco-packaging company Fanda Pack, which they launched in 2019 to help phase out single-use plastics across Africa. Ethar Yousif, a member of Khartoum-based startup hub 249 Startups, launched Akhdar to distribute locally-produced solar food dehydrators to farmers, to help them curb post-harvest waste and earn extra income.
Next up, Hassan has his sights set on advancing new government policy that will accelerate social entrepreneurship in Sudan. "We know we have ups and downs, lows and highs, but we believe in what we are doing," he says, "so we keep going."
Writer's Note: I interviewed Hatim in the fall of 2018 for an article on Massive Dynamics as the then-editor of the American Society of Mechanical Engineers' impact hardware publication, DEMAND. The article was scheduled for publication in the spring of 2019. As Hatim and I were putting the finishing touches on illustrations and fact-checking the article together, the Sudanese government shut down social media and the popular messaging app Whatsapp in response to political and economic protests. Our communication was severed. The article was put on hold, and was ultimately never published.
Jessica Pothering is a journalist covering social enterprise, impact investing and impact tech. She writes for ImpactAlpha and AgFunderNews in addition to Hardware Things and previously edited Demand, an impact hardware publication from the American Society of Mechanical Engineers. She's based in Amsterdam, but will gladly accept any excuse to travel elsewhere. Say hi and connect on LinkedIn.
Sign up with your email address to receive the monthly newsletter.